Microsoft's plan for Windows 10 world domination
Unparalleled distribution strategy is the story.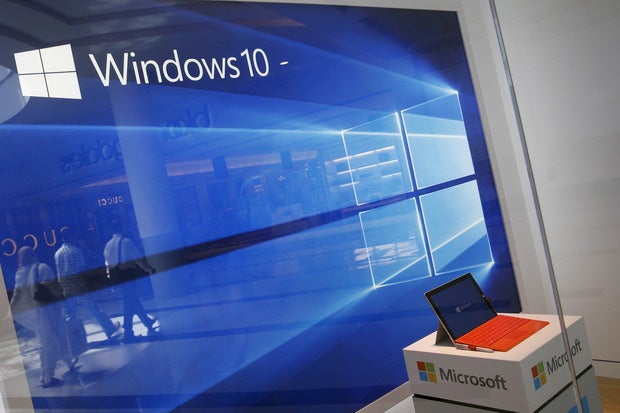 Credit: REUTERS/Shannon Stapleton
In hindsight, it's now apparent that Microsoft's plan last year for promoting Windows 10 on PCs had less to do with the single decision to give away upgrades than with a radical scheme that relied on an unprecedented distribution strategy.
In the last 12 months, Microsoft has carefully unveiled several steps to boost Windows 10's adoption. At each step, Microsoft touted customer benefits, even as it took measures that no operating system vendor had used to boost adoption, even as some of those steps generated criticism from users who balked at the new practices.
It's impossible for those outside Microsoft's inner sanctums to know whether the moves the company made were an inclusive strategy that was pre-ordained, an ad hoc series that was crafted on the fly, or a set of contingencies that, like a BASIC program written by Bill Gates decades ago, was a list of IF-THEN statements, some called in play, others discarded and thus unknown to the public.
The course Microsoft's taken sure seems like a planned strategy, or at least, one with multiple choices at various points. Evidence of that lies largely in the work Microsoft did ahead of time on Windows Update, the 21-year-old update and maintenance service almost exclusively dedicated to delivering security patches. Microsoft has added significant functionality to Windows Update in the past year so that it can support upgrades from one OS edition to another.
If successful, Microsoft's Windows 10 distribution strategy may be mimicked by others, becoming the new normal. If not ... well, Microsoft has one weapon to make sure that the strategy is successful, come hell or high water.
January 2015: It's all about free
On Jan. 21, 2015, Microsoft executives announced that Windows 10 would be a free upgrade to current users of Windows 7 and Windows 8.1 for a one-year span starting when the OS was released.
Although Microsoft did not immediately spell out exactly who got the free upgrade -- it did eventually, tapping those running the consumer and professional editions, but not the enterprise SKU (stock-keeping unit) that's prevalent in large organizations -- it trumpeted the deal as a win for everyone, promising not only the free upgrade and the usual advances in security and functionality, but also a constant stream of improvements over the lifetime of the operating system.
"Once a device is upgraded to Windows 10, we will be keeping it current for the supported lifetime of the device, keeping it secure, introducing new features and functionality to our customers over time," said Terry Myerson, then the head of the OS group, a year ago.