New Windows 10 Insider Build allows you to shut down your PC with your voice
Make sure you use this power only for good, okay?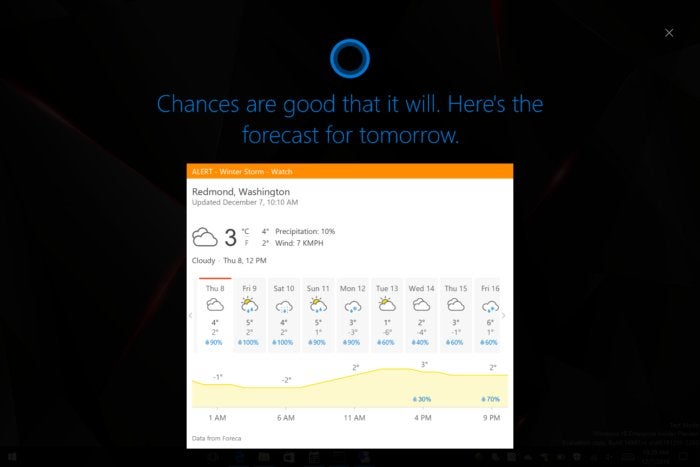 Microsoft
Here's what the new "full screen" experience looks like when the screen is locked.
That lock screen will look a bit different, too. When your PC is locked, Cortana will stay active, though with prior builds she couldn't do too much. Now, she's much more visual—ask her the weather and she'll show you the forecast, optimized to be seen while across the room.
It's the PC shutdown and restart commands that may be a little worrying for some, though. You used to be able to order Microsoft's Xbox to turn off via your voice alone—and some people discovered that you could simply say "Xbox off" in a YouTube video or stream with disastrous consequences. It's not quite clear what the command is to restart your PC ("Cortana, restart my PC" is probably it) or whether there's an option to toggle that capability on and off. For now, if you're running this build, be a little wary.
A bit of spit and polish for Windows Ink
Microsoft's inking tools, known as Windows Ink, remain a work in progress—in our review of the Windows 10 Anniversary Update, we noted that inking felt unfinished. Fortunately, a few features in Build 14986 help give it a bit more polish.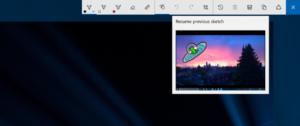 Microsoft
You can resume an old Screen Sketch if you wish.
Probably the most important updates are general tweaks to its interface, including finer-grained control over how the ruler rotates, as well as doing away with the cursor while inking to suggest a more pen-like experience. And if you do tweak a setting—say, if you widen your pen's ink or change the color—a fly-out will allow you to preview before you touch the stylus to the screen.
Windows Ink also gained a bit of permanence. Now, you can resume an earlier Screen Sketch (although it will generate a new sketch by default—you'll have to tweak this in its settings).
Gaming, Narrator, Defender, and Registry improvements
Besides those major improvements, Microsoft has also added several specific updates to some of the key areas of Windows 10:
In the Registry, Microsoft now allows you to add the familiar File Explorer keyboard navigation shortcuts to Registry Editor, so you can easily go up (Alt+ Up arrow), backwards (Alt + Left arrow), or forwards (Alt + Right arrow) in the Registry.
Tapping Win+G invokes the Game Bar, so you can easily take a screenshot or record a video in your PC games. Microsoft added 19 more popular PC games—from Civilization V, Fallout 4, Dark Souls III, Overwatch, to The Witcher 3: Wild Hunt and more—to Game Bar support.
Microsoft's Narrator assistant can now describe fonts, screen spacing, and more by tapping CAPS + F. But Microsoft changed the key to get advanced information about an item in focus from CAPS + 0 to CAPS + F.
Microsoft has added a new dashboard for Windows Defender. Though the functionality appears to be the same, the look and feel have been simplified.