Solid mobile spreadsheet program adds iPhone compatibilty
When I reviewed the initial release of Numbers for iPad in April 2010, I noted that it worked well for creating original spreadsheets, and for working on Numbers-native spreadsheets from your Mac, but that it fell short due to its inability to output files in Excel format. (Though Apple's app could read such files, it would convert them to Numbers format). That version of Numbers was also available strictly for the iPad, and not the iPhone or iPod touch.
Numbers 1.4 addresses the Excel issue, adds some other welcome features, and can now be used on the iPhone (3GS and 4) and iPod touch (third- and fourth-generation) in addition to the iPad. In this review, I'll focus on what's new in Numbers, and discuss its use on the smaller iDevices.
The big news in this Numbers update is the small news—you can now use Numbers on certain iPods and iPhones. While Numbers is a Universal app (one version for all iOS devices), there are a couple of features in Numbers on the iPad that you won't get to use in Numbers on the iPhone or iPod touch: full-screen mode and landscape view.
On the iPad, you can enter a full-screen mode to get an overview of your data, and run quick summaries of data sets with a simple flick of your finger. You can't do much more than that, though, so the lack of this feature on the smaller-screened iPhone and iPod touch may not be a major problem for most users.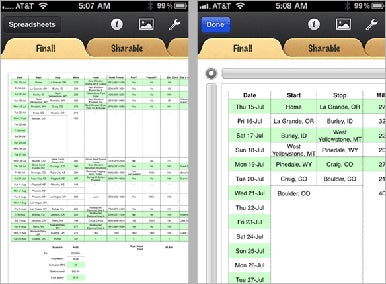 Numbers, Crunched: The iPhone's small screen means Numbers users will choose between seeing nearly everything and reading nothing (left), or reading everything but seeing nearly nothing
The lack of landscape mode, though, is more troubling—many worksheets are laid out in a landscape orientation, and viewing a super-wide landscape spreadsheet on an iPhone in portrait mode can entail a lot of finger swiping. I didn't realize just how often I used this mode in Numbers on the iPad until I flipped my iPhone around for the first time, expecting to see my worksheet flip, too. When it didn't, I thought I had the iPhone's orientation locked, but that wasn't the case. There simply isn't any support for landscape mode on the iPhone and iPod touch.
One other minor but potentially annoying "feature" in Numbers on the iPhone and iPod touch is that you can only undo and redo changes by shaking your device—in the iPad app, there's a dedicated button in the toolbar that doesn't appear when you run the app on smaller iOS devices. When developing a spreadsheet, I use undo and redo a lot, and shaking the phone—over and over again—to accomplish that task gets old really quickly. I found myself longing for the iPad's dedicated button after only a couple of undo shakes.