Oracle seeks US$9.3 billion for Google's use of Java in Android
The figure appears in a report by Oracle's damages expert, which Google strongly contests.
Google denies any wrongdoing. It says its use of Java is covered by fair use, which allows copying in limited cases. Factors include whether the use of the copyright work was transformative, meaning whether it turned it into something new; the amount of the original work that was copied, and the impact of the copying on the market value of the original work.
The estimate from Oracle's damages expert, James Malackowski, comprises two parts: $475 million for damages incurred by Oracle, and $8.8 billion for profit made by Google.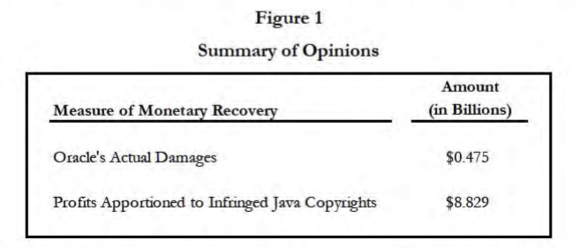 Summary of findings by Oracle's damages expert, James Malackowski. Credit: Oracle/IDGNS
The first figure accounts for money Oracle might have made from licensing Java to handset makers itself, if Google hadn't developed Android. The second is for profit Google made from Android, including from mobile advertising and apps and content sold through the Android Market and Google Play.
In a court filing last week, Google blasted Malackowski's report and asked Alsup to exclude parts of it from trial, saying it "ignores the statutory standard for copyright damages and fails to offer anything resembling an expert analysis."
Copyright law says damages can only be claimed for profits that are "attributable to" the infringing code. And the 37 APIs are "a fraction of a percent of the code in the complex Android smartphone platform," Google's lawyers argued.
"Oracle and Malackowski improperly equate the value of the entirety of Android" with the value of the 37 APIs, Google says.
The two sides are due in court April 27 for a pretrial hearing before the judge.