OS X El Capitan review: Mac upgrade that's as solid as a rock
Lots of new features in Apple latest version of OS X. Upgrade and get an improved Mac. It's really that simple.
One of the security improvements in El Capitan is a feature called System Integrity Protection, which clamps down on the ability of malware to hijack your Mac by masquerading as a user with system-administration privileges. This is a good thing—but a few apps, including Default Folder X and SuperDuper relied on that same vector to do their jobs. You can turn off System Integrity Protection if you absolutely need to, but it seems like most apps will be able to function just fine with it turned on. (It's just that some of them may need an update first.)
Bottom line: I've found El Capitan to be a stable update, but you should always back up your system and check with the makers of your most important apps about compatibility before installing it.
A saner Mission Control
We all use our Macs in different ways—and even the same person can use a giant 5K iMac in a different way than they use an 11-inch MacBook Air. (I am one of those people.) My gut feeling is that there's a devoted (but small) subset of Mac users who love using Mission Control (formerly Exposé) to arrange their windows and workspaces, or frequently use Full Screen mode for apps. If you're one of those people—or if you've always been tempted to improve how you organize your workspace, I've got good news for you: El Capitan offers quite a few boosts to Mission Control and Full Screen Mode.
The most notable addition is the new Split View feature, which appears to be designed to be reminiscent of the Split View feature that appears on some iPads in iOS 9. Unlike the iPad, though, Mac users have always been able to run two windows next to each other. Still, what Split View is really doing is adding an extra dimension of utility to full-screen view. Now full-screen view doesn't just have to feature one app stretched out to take over your entire screen—you can split the space between two apps, one on the left side and one on the right.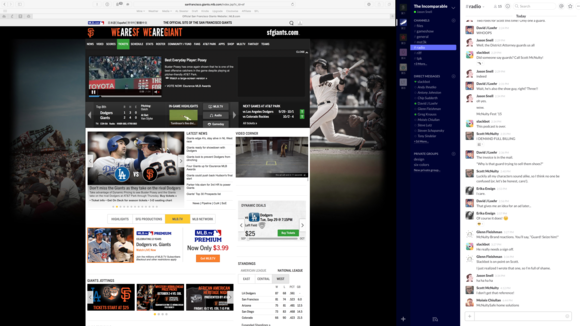 Split View allows the user to display two apps side by side.
Entering Split View is actually fun, and quite clever on Apple's part. If you click and hold on the green plus/maximize button in a window's title bar, you'll be prompted to choose which side of the screen you'd like that window to be placed on. Then Mission Control will activate on the other side of the screen, letting you choose any of your currently open windows to use as the first window's split-screen buddy. It's fast, cool looking, and efficient.
Previous Page 1 2 3 4 5 6 7 8 9 Next Page