OS X El Capitan review: Mac upgrade that's as solid as a rock
Lots of new features in Apple latest version of OS X. Upgrade and get an improved Mac. It's really that simple.
Converting full-screen mode to split-screen mode isn't without its interface quirks. I noticed that, depending on how an app presents itself in full-screen mode, sometimes it could be very hard to tell which app was active/frontmost. That sometimes led to unexpected behavior—for example, I tried to zoom in on a PDF in Preview by spreading my thumb and index finger on the trackpad, but it didn't work because I hadn't clicked on the window to activate Preview yet.
Since it seems that Split View is just a modified version of the old full-screen view, there are probably going to be some quirks like this—with apps assuming they're the only app you can see because you're in full-screen mode, even though they're not—until they're modified to adapt to the El Capitan world.
Like full-screen view, I'm not sure Split View is going to appeal to anyone but users of laptops, and even then, it's more likely to be appealing to smaller laptops. If you've got a large monitor, full-screen view is often overkill, because few apps are designed to take up all that space. (There are, of course, exceptions—when I'm editing audio in Logic Pro X, it's using every pixel of my 5K iMac screen.) But at least with El Capitan, you've got the option of having two different apps share full-screen view. On a smaller display, such as my trusty 11-inch MacBook Air, it's a nicer experience.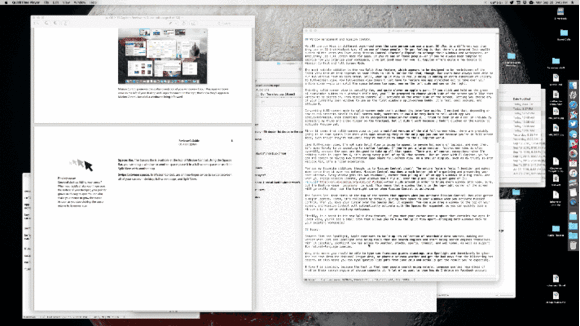 When you engage Mission Control, app windows as placed relative to their actual placement on your desktop.
Perhaps my favorite addition, though, is to Mission Control itself. The entire feature feels friendlier and makes more sense than it ever has before. Mission Control now does a much better job of organizing and presenting your open windows. Every window gets its own thumbnail, rather than piling all of an app's windows in a big stack. And when you engage Mission Control, your windows don't fly all over the place like a giant game of 52 Pickup—they slide around in order to bring every window into view, sure, but the feature keeps geography in mind. This means that a window that's in the top-right corner of the screen will generally stay near the top-right corner when Mission Control is activated.
The Spaces Bar—that strip at the top of the screen that appears when you activate Mission Control—has also gotten a major upgrade. First, it's collapsed by default, giving more space to your windows when you activate Mission Control. When you move your cursor over the Spaces Bar, it expands. You can also drag a window to the top of your screen, and Mission Control will automatically activate with the Spaces Bar expanded, so you can quickly toss a window into a new or existing workspace.
Previous Page 1 2 3 4 5 6 7 8 9 Next Page