OS X El Capitan review: Mac upgrade that's as solid as a rock
Lots of new features in Apple latest version of OS X. Upgrade and get an improved Mac. It's really that simple.
Finally, in a boost to the new Split View feature, if you move your cursor over a space that contains two apps in Split View, you'll see a small icon that allows you to blow the Split View apart—bringing both windows back to your existing workspace. When you click it, you see the two windows slide back into their place in the Mission Control landscape.
Search (in Spotlight and elsewhere)
Between Siri and Spotlight, Apple continues to build up its collection of searchable data sources. On iOS, Siri and Spotlight seem to be merging and mingling in a bunch of interesting ways. On OS X, those data sources crop up in a bunch of different places: They're in Spotlight, yes, but you'll also find them in Safari. With El Capitan, Spotlight and Safari both have access to weather, stocks, sports, transit, and web video, as well as support for natural-language queries.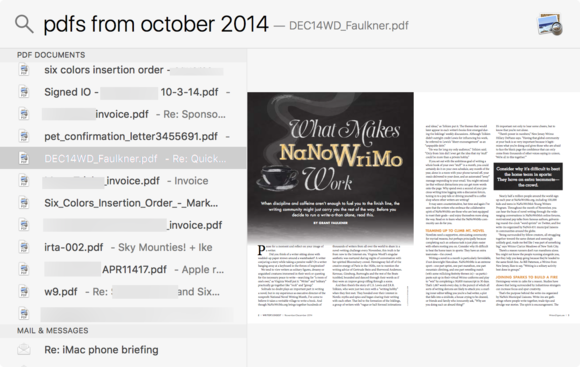 Spotlight's natural language support means you can type queries like, "pdfs from october 2014" and Spotlight will show the proper results.
Yes, this means you should be able to type "san diego chargers standings" into Spotlight and immediately be given the bad news from the AFC West, or "phoenix az weather" and get the bad news from the desert west. It also means you can type queries like "pdfs from june 2013" or "presentations from august 2012" into Spotlight or Finder and actually get the result you're expecting.
I like this approach, because the fact is that many people search using natural language queries regardless of whether their search engine of choice supports it. A lot of us want to type, "how do I delete my Facebook account" into Google, rather than carefully crafting a string of search terms. So Spotlight gets smarter, we get to be lazier, and it should all work out.
That said, the quality of the results from these data sources needs to be tightened up. When I search for "arsenal standings," I get an English Premier League table, but without point totals. A search for "cal football schedule" shows me a weird amalgamation of dates, many of them listed as Dec. 31, and "pac-12 standings" displays an unsorted list of conference records. Likewise, if I type "memphis weather," I don't get the weather near Graceland, but the weather in Memphis, Texas, population 2290. Not smart enough, Spotlight.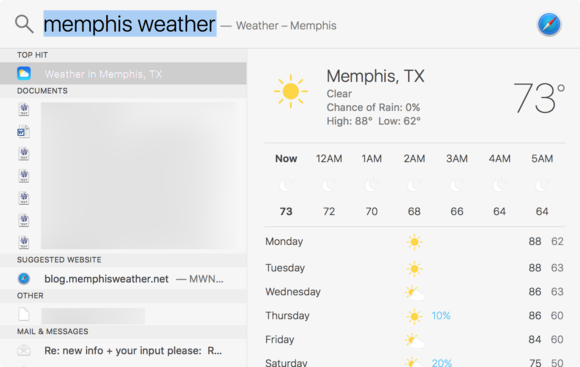 Think "Memphis," and most people think Tennessee, except for Spotlight (and the citizens of Memphis, Texas).
There's one improvement to Spotlight that I applaud wholeheartedly, and it has to do with the Spotlight window itself. Last year, Yosemite cut the cord between the Spotlight window and the Spotlight icon in the top-right corner of the Menu Bar. It floated in the middle of the screen, disconnected from the icon it was supposedly attached to. Now with El Capitan, you can move the Spotlight box anywhere you want, and resize the results window, with the menu bar icon serving as nothing more than a shortcut.
Previous Page 1 2 3 4 5 6 7 8 9 Next Page