OS X El Capitan review: Mac upgrade that's as solid as a rock
Lots of new features in Apple latest version of OS X. Upgrade and get an improved Mac. It's really that simple.


Safari 9 uses a speaker icon to tell the user that audio is coming from a webpage.
Safari Reader, which gives you a simplified view of a complicated page layout, has added more display preferences. In the Yosemite version of Safari, you can make the text larger or smaller, but that's about it. In Safari 9, you can not only adjust text size, but also choose from four color themes and eight typefaces. It's a good look, especially when I'm reading at night and prefer a light-on-dark theme.
Finally, anyone who has been frustrated that they can't easily send a video they're watching in Safari and play it on their TV—something that's easily done on an iOS device—will be happy to know that Safari now supports AirPlay video. If you're playing a video that's compatible with AirPlay, you'll be able to see an AirPlay icon right on the video within Safari, and can select it in order to send that video to an AppleTV via AirPlay. Whew!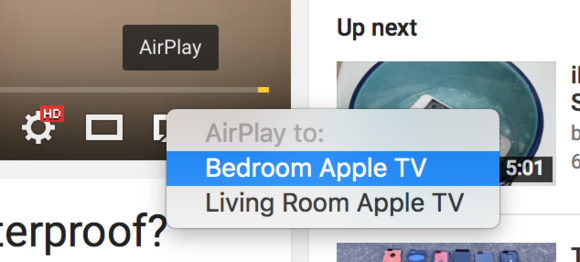 Safari 9 now supports AirPlay video.
Admit you use Notes
To paraphrase the late, great Yogi Berra, nobody likes the Notes app–it's too popular. The App Store is full of apps—iOS and Mac alike—that outdo Notes at the job of taking notes, creating shopping lists, you name it. But Notes has one major thing going for it, namely that it's on every Mac and iOS device in existence. I admit it: I use Notes for all sorts of things.
Like taking selfies (or using the iPad as a camera), Notes is something people use, so Apple might as well put some effort into making the experience better! And so with iOS 9 and El Capitan, Notes has received a major upgrade. Now you can stick a whole bunch of different files–PDFs, images, even videos–into a note. You can sketch notes on iOS and view them on the Mac—but not create them yourself. Notes is also now an option in the Share button, so you can send data to Notes from any app that displays a share sheet.
To create a checklist in Notes, you just select some text and click the Checklist button in the toolbar. That's it–every line gets a little check box in front of it, and you can check them on and off at will. The checkboxes aren't connected to anything, and clicking them doesn't do anything except check and uncheck them. But if you're making a quick to-do list, maybe that's all they need to do.
Up to now, Notes was one of the rare Apple cloud-connected apps on OS X that didn't actually use the iCloud infrastructure. Instead, it connected to a special IMAP mailbox in one of your connected email accounts. (If you've ever searched your Gmail and seen a dozen different notes files in your results, this is why.) But starting with El Capitan, Notes can also use iCloud proper. In fact, for most of the more advanced features–including checklists, fancy links, and access to the type style menu–you'll need to use iCloud. Fortunately, you can easily drag all your old notes from your email account right into iCloud, and they'll transfer over.
Previous Page 1 2 3 4 5 6 7 8 9 Next Page