OS X El Capitan review: Mac upgrade that's as solid as a rock
Lots of new features in Apple latest version of OS X. Upgrade and get an improved Mac. It's really that simple.
Photos gets extended
The first version of Photos for Mac was not without its power features, but while I was working on my book about Photos, I heard from a whole lot of people who had opinions about the most important features it omitted. Fortunately, some of the most common complaints I heard have been addressed with the new version of Photos that ships with El Capitan.
The biggest addition is editing of image data, individually and in batches. In Photos version 1.1, you can add location information to either a single photo or an entire batch, and batch-change titles and other information.
To do this, you open the Inspector window. A not-yet-geotagged image will offer a section of the window labeled Assign a Location. Clicking in this area will let you enter a street address or a name of a point of interest, and Photos will search Apple's Maps database. You can also just click on the pin and drag it around the map, placing it wherever you like. To batch-change titles, descriptions, or keywords, just select a bunch of images and input the new information into the Inspector window.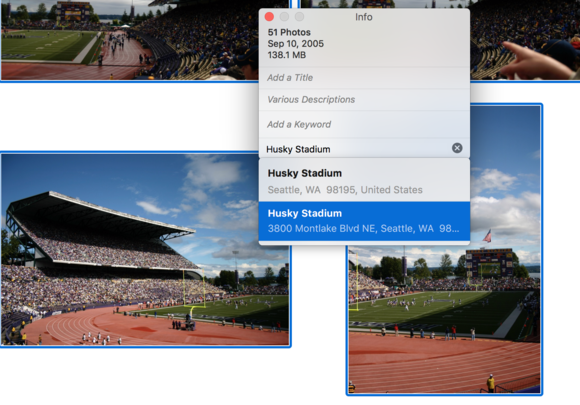 Photos 1.1 now has batch support for changing titles and adding location information.
Another huge user complaint was about a lack of flexibility in sorting albums. (The first version of Photos let you sort them any way you want, as long as it was by date.) The new version of Photos will let you sort them by date and title, as well as keep them in a custom order that you determine by dragging images around.
Photos on El Capitan also supports image-editing extensions written by third-party developers. If there's a particular editing effect or tool that isn't available in Photos, a developer can write an extension that provides that feature, and it can be accessed from within Photos. A bunch of different Extensions are on the way—I tested a couple of them, and many will be released alongside El Capitan.
While you can edit photos using Extensions right within Photos, they aren't quite as integrated into the app as the built-in tools. Basically, the edits that you make in an Extension are done on top of a version of your photo. If you've applied other effects, those effects are "burned in"—you can't apply a black-and-white effect, then add some distortion effects with an extension, and then remove the black-and-white effect. Fortunately, Photos always lets you revert to the original version of the photo if you need to start again.
Adding Extension support to Photos opens up a whole new set of capabilities, from the serious to the silly, all without ever needing to leave Apple's next-generation photo editor. It's a good thing.
Previous Page 1 2 3 4 5 6 7 8 9 Next Page