OS X El Capitan review: Mac upgrade that's as solid as a rock
Lots of new features in Apple latest version of OS X. Upgrade and get an improved Mac. It's really that simple.
Other bundled apps
Of course, every OS X update brings upgrades to many other Apple-built apps. Mail and Maps both received nice updates this time around.
Taking a cue from iOS and from some third-party competitors, Mail now allows you to use the trackpad to swipe messages into the trash or to mark them as unread. Trackpad-oriented users will appreciate the shortcut, and there's a preference to let you choose whether a swipe deletes a message or archives it.
For quite some time now, OS X has had the ability to detect certain kinds of content in your email messages–names of contacts, events, dates and times. In El Capitan, Mail does a much better job of putting that information in context. If a potential event is mentioned in the text of an email message–"let's have lunch on Thursday"–Mail will add a banner above the top of the message body that displays the event and provides an "add event" link to quickly add it to your calendar. Likewise, if the person mailing you doesn't appear in your Contacts list, Mail will display a banner indicating that it's detected a possible new contact with a quick "add contact" link.
But perhaps the best feature in Mail is one that lives under the hood and addresses a longstanding problem with the app. Perhaps because it was developed at Apple's campus, replete with high-speed Internet connections, Mail has had a major blind spot: poor performance on slow connections. Have you tried using Mail on a slow, high-latency Internet connection on, say, an airplane? All you want to do is check your Inbox, and Mail's trying to sync all your IMAP mailboxes rather than getting to the good stuff.
In El Capitan, Mail prioritizes showing you new mail in your Inbox and prioritizes the downloading of the messages or mailboxes that you're currently viewing. It's an improvement that's been a long time coming—thanks, slow Virgin America in-flight Wi-Fi!—but it's finally here.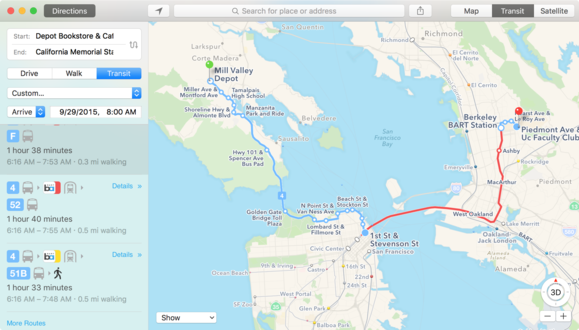 Maps in El Capitan now offers transit maps in a few select regions, with more to come.
The banner feature in Maps is transit maps, which are available in eight U.S. cities, two European cities, and over 300 cities in China. I was able to try this using Bay Area data, which is a bit of a mess because we've got a whole bunch of different, unaffiliated transit agencies. I was able to plot a trip from my local bus stop to downtown Berkeley, complete with a transfer from the bus to BART in San Francisco, and know exactly when I'd need to leave my house in order to arrive at the proper time. It's pretty cool. Now Apple needs to get to work on bringing it to many more regions!
Previous Page 1 2 3 4 5 6 7 8 9 Next Page