OS X El Capitan review: Mac upgrade that's as solid as a rock
Lots of new features in Apple latest version of OS X. Upgrade and get an improved Mac. It's really that simple.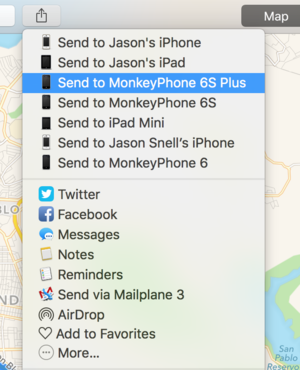 Routes you create in El Capitan Maps can be sent to Maps on your iOS device.
When I'm plotting a journey, I usually first explore the trip on my Mac, but of course when I'm making the actual journey I'm using my iPhone. In El Capitan, I can directly share my route with any other iOS device connected to my Apple ID, so I can send my trip directly to my iPhone (and Apple Watch) with a couple of clicks.
Improving performance
Under the hood in El Capitan, Apple's made a bunch of changes that you might not notice—but that might bring you a big benefit. Apple's brought Metal, its graphics technology, over from iOS, and has dropped it in as a replacement for the old OpenGL technology. Many of OS X's key graphics frameworks, including Core Animation and Core Graphics, now use Metal rather than OpenGL. The end result should be that all sorts of parts of the Mac interface should feel snappier.
Apple says that apps launch faster in El Capitan, that switching between apps is faster, and that opening and moving around in PDFs in Preview is faster. I booted back and forth between Yosemite and El Capitan partitions on my 5K iMac and couldn't really notice the difference, but perhaps it's more noticeable on slower systems.
Games, in particular, should benefit from the switch to Metal—assuming games are built to take advantage of it. Sharing a graphics technology with iOS should help a whole lot, since once developers do the work to use Metal on iOS, they can apply that work to the Mac as well. Adobe, too, has committed to using Metal in a future update to its Creative Suite, which should likewise improve performance on existing Mac hardware.
Bottom line
It's not the most exciting word, but I keep coming back to routine as a way of describing the upgrade to El Capitan. These days, OS X updates are free, are compatible with pretty much every Mac that could run the previous version, bring with them all the most important security and stability fixes, and on top of all that, there are a bunch of new features and updates to apps that you use every day.
There was a time, only a few years ago, when OS X updates were fraught with should-I-or-shouldn't-I peril, along with a real price tag. Those days are long gone. Should you update to El Capitan? Unreservedly yes—I've found it to be stable, it's free, it'll download and install itself on your Mac with nearly no intervention, and it'll bring with it improved security, speed, and functionality.
The days of dramatic operating-system updates are over. El Capitan is as solid as the giant granite monolith that towers over Yosemite Valley. Upgrade, and get an improved Mac. It's really that simple.
Previous Page 1 2 3 4 5 6 7 8 9