Review: Apple shines up OS X with 'El Capitan'
In Mac OS X 10.11, most of the improvements are under the hood.
Apple app changes
Safari gets a number of useful additions this year, but they're mostly tweaks, such as pinned sites, audio muting and -- Apple TV users will welcome this -- built-in AirPlay support for videos.
About that last feature: Videos will now get an additional control icon; tapping the AirPlay icon lets you choose any Apple TV in range so that the video plays through it instead of in the browser window. Previously, this was only possible via third-party plugins, such as ClickToFlash.
While the built-in functionality lacks advanced features found in third-party plugins (ClickToFlash lets you download content instead of simply playing it, for instance), Apple's addition to Safari is stable and works well enough for most people who just want a no-fuss way to stream content to Apple TV. Safari also supports HTML 5 picture-in-picture to enable custom controls for HTML 5 videos and streaming of FairPlay content.


Safari now allows you to pin frequently accessed sites to the menubar (left). Credit: Michael deAgonia
Other Safari changes include:
Pinned Sites, which keeps a small, active tab of any website you wish to keep in the Tab section of the app, just to the left; these tabs stay open, yet out of the way, for quick access to frequently visited sites.
A load-blocking API for extensions, which lets Web developers block content from loading from a large collection of sources, using minimal resources without hindering Safari performance -- and perhaps actually improving it.
Force Touch mouse events support, which will enable developers to add interactivity based on the amount of pressure exerted in a tap on supported laptops, as well as haptic feedback.
And better audio/video content control: You can now easily silence sudden audio/video from a background or foreground tab, such as when a video or ad loads that you didn't really want to play/hear. From within the Web address bar, clicking on the speaker icon will instantly mute all Safari content. Then Safari will show you which tab has the offending content when you click and hold on that speaker icon. Super simple and super useful.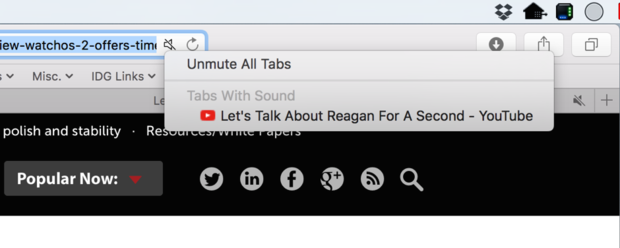 One of the best new Safari features allows you to quickly locate (and mute) unwanted audio or video autoplays. Credit: Michael deAgonia
Mail
Mail snags a feature from iOS by gaining more gesture support in the Mail list; the gestures perform different behaviors, depending on whether you swipe left or right with two fingers. These gestures can trigger events like deleting, flagging or marking mail as read (without actually opening the message).
Mail also fixes a problem inherent to full-screen apps that require multiple windows. In Yosemite, when a new message was created while Mail was running in full-screen mode, it wasn't possible to view other messages; they resided in the main window behind the message being composed. In El Capitan, it's now possible to minimize the message window and access other emails and mailboxes; and if you're writing more than one email, they show up in tabs, similar to tabs in the Safari browser.
Previous Page 1 2 3 4 5 6 Next Page