Review: Google's Pixel 2 phone is the smart (and safe) choice for biz
The new Pixel 2 and Pixel 2 XL offer a perfect showcase for Android Oreo and the Google Assistant — and for businesses, the peace of mind that comes with prompt OS updates.
One of the great attractions of Google's Pixel phones is that they are almost iPhone-like in concept: The same company is in full control of the hardware, software and ecosystem. And, often, a new phone is accompanied by a new release of the Android operating system, with the promise that it will get prompt OS updates for at least the next few generations.
With other phone manufacturers typically taking weeks or months to roll out Android updates, the Pixel's first-in-line status for new features and security fixes makes it an attractive choice for the enterprise.
The just-released Pixel 2 and Pixel 2 XL from Google showcase the brand new Android 8.0 (Oreo) operating system in what could reasonably be called a reference design, with hardly any carrier cruft or manufacturer UI overlay. The hardware is unmistakably made by HTC, as were the earlier Pixels, and if the $1.1 billion that Google splashed out to hire a bunch of HTC engineers means that we can expect more phones like these, it would be money well spent.
There are, as has become customary in top-spec phones, two versions of the Pixel 2: regular and XL. The regular is 5.74 in. long by 2.74 in. wide by 0.31 in. thick, or about 1/8 in. shorter than a Samsung Galaxy S8 and about 1/4 in. shorter and a touch wider than an iPhone 8. The Pixel 2 XL measures 6.22 x 3.02 x 0.31 in. — a touch narrower than the Galaxy S8+ and almost exactly the same size as an iPhone 8 Plus.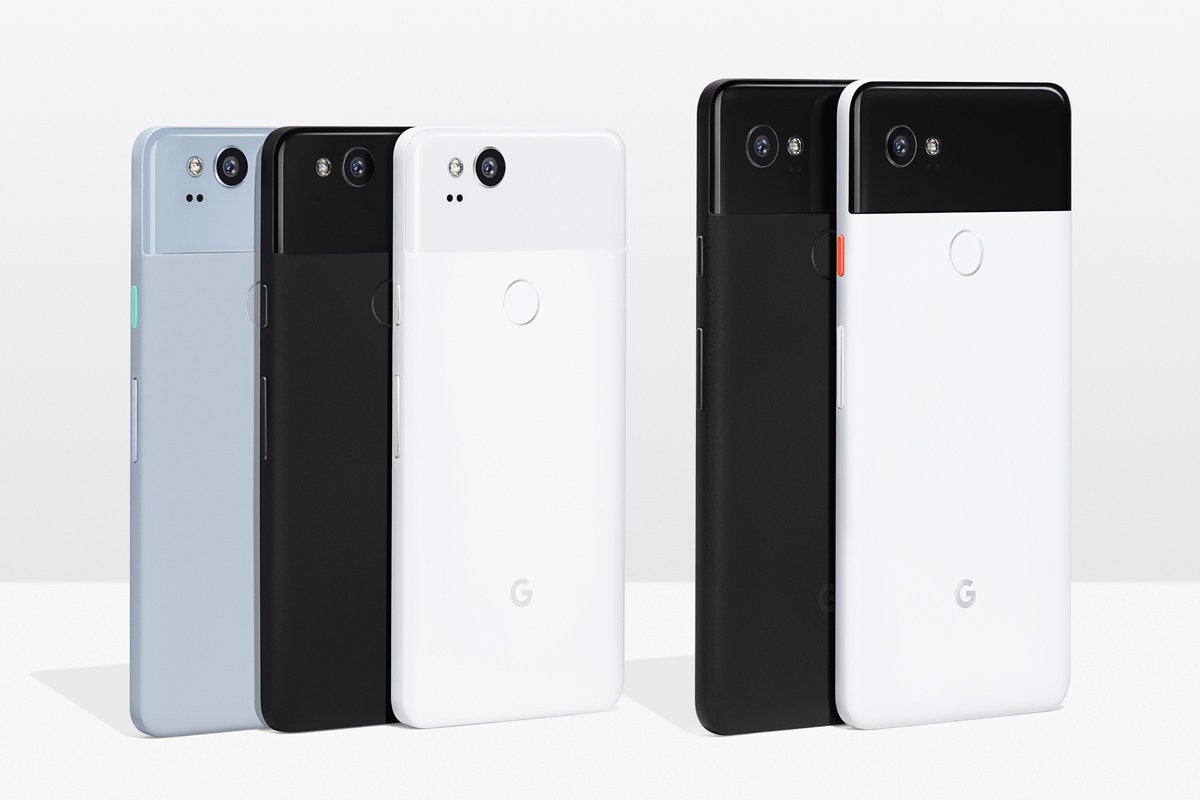 Google. The Pixel 2 lineup
The Pixel 2 XL comes in two colors: Just Black (a real, deep, grand-piano black — none of this "dark gray" nonsense) and Black & White. The smaller Pixel 2 comes in Just Black, Clearly White, and Kinda Blue (a pale, slaty blue-gray).
Although the phones are carrier-exclusive to Verizon, you can buy them direct from Google and they'll work on Sprint or any GSM carrier, including Google's own Project Fi. I reviewed a black Pixel 2 XL on the Verizon network.
Outside and inside
In an age where most high-end phones are either fully glass-clad or made of slick, slippery metal, the first thing you will notice about either Pixel 2 phone is that the sides and the lower three-quarters of the back are made from grippy, matte aluminum. It's a pleasure to hold, and it doesn't make you feel like the phone's going to pop out of your hand like a watermelon seed if you're not careful. That the matte metal doesn't pick up fingerprints is a win for the fastidious. I'm not a huge fan of big phones, but this one felt secure to handle.