Who needs Windows 10 Pro: 5 reasons to upgrade
Most of you should be happy with Windows 10 Home. But certain features make the upgrade worthwhile.
Before Windows 10 launched, I would have argued that enthusiasts would want to remain on the Windows Insider branch, testing out new patches as quickly as possible. Even small business owners wouldn't mind using Windows 10 Home, I thought, as who wouldn't want to receive the latest patches as quickly as Microsoft could deploy them?
And then, as Windows 10 neared, reports circulated of new updates breaking multimonitor setups with certain Nvidia cards. A firmware update that Microsoft pushed to the Surface 3 and Surface Pro 3 failed, and had to be reissued. And by default, Windows doesn't tell you that updates or patches need to be installed.
Part of the issue is a fundamental conflict between hardware makers and Microsoft. Microsoft thinks the latest drivers should be routed through its own servers, while hardware makers reserve that right for themselves. That can cause some problems around which drivers are considered "the latest."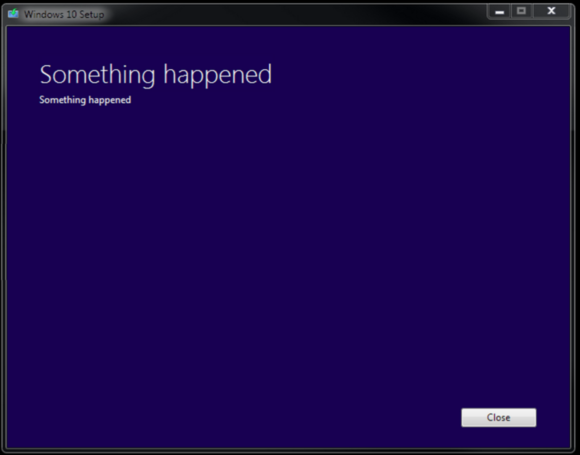 This bug cropped up in some installations using the Windows 10 Media Creation Tool.
In other words, patches do occasionally cause things to go haywire, which means that Home users could wade through some wonky updates as Windows 10 evolves. Murphy's Law says things will go wrong. Bugs will happen. Updates will be applied. If you're a conservative type, Windows 10 Professional lets you defer updates for up to several months (security updates excepted). That chance to wait and see if anything blows up might add an extra layer of peace of mind.
Features for businesses first
Several features in Windows 10 Professional are aimed squarely at the business market. Domain join, for example, allows you to bring in your own PC and connect it to the office domain. Group policy management allows an IT admin to control which PCs do what. And if you're running an ancient Web app at work that doesn't work with Edge or Internet Explorer 11, the Enterprise Mode Internet Explorer allows you to drop into an Internet Explorer 8 mode inside your browser. Likewise, if your business needs specialized enterprise apps, an admin can lock down the Windows Store to make sure employees get those, and nothing else. There's also the ability to join Azure Active Directory, with single sign-on capabilities.
Some users may find some value in Assigned Access, which takes a Windows tablet and allows it to run only a particular application. Normally this setup is used for a dedicated kiosk, but it might kid-proof a tablet, too.
Get it for the flexibility
Moving to Windows 10 Professional makes sense for people who could use its more advanced features. It costs money, though, so don't feel compelled to upgrade unless you really need them. Windows 10 Home will suffice for the majority of individual or family users.
Previous Page 1 2 3