Why Windows 10 wants your feedback and diagnostics, and how to control them
You don't have to tell Microsoft what you think, but unfortunately it can still peer over your shoulder.
We now know the tradeoff for free Windows 10: Microsoft wants data about what you do with your device. But you don't have to send everything you do back to Redmond.
You can control the data you send back, and how often, by delving into Windows 10's privacy settings (we've taken you here before) and looking specifically at Feedback frequency and Diagnostic and usage data. The former is typically just an automated survey, but the diagnostic component actually peers into your machine.
These features comprised the Customer Experience Improvement Program, or CEIP, in previous versions of Windows—and they were voluntary. In Windows 10 they've become mandatory, but you can control some aspects.
Start by going to Settings > Privacy > Feedback & diagnostics in Windows 10.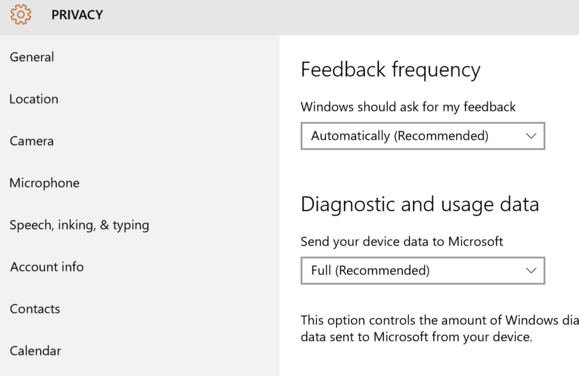 Set limits on what Microsoft sees with these feedback and diagnostic settings.
Changing the Feedback frequency
Every so often, Microsoft gets curious: Did you like this new version of an app? Would you recommend Windows 10 to a friend? Microsoft typically asks these sorts of questions of Insiders who've signed up to test Microsoft's beta software, but regular Windows 10 users may be quizzed as well.
Solicitations for feedback are infrequent. In fact, if you leave the Feedback frequency setting at Automatic, you'll rarely see a popup. But you may set Feedback to Never if you're dead-set against ever receiving the prompts.

If you don't want to wait for Microsoft to ask you for your opinion, you can change the Feedback setting to your liking.
If, on the other hands, you can't wait to tell Microsoft what you really think, you can adjust the setting to Once a week, or Once a day, or even Always, so that presumably anything Microsoft has a question about will be flagged for your attention. You can also go to Start > Windows Feedback and use that app to send feedback on a specific issue.
What's collected for diagnostic and usage data
The diagnostic and usage data that Microsoft wants to collect, however, is much more intrusive. Microsoft won't know who you are by name, but it does track your device using a unique ID.
"As you use Windows, we collect diagnostic and usage data that helps us identify and troubleshoot problems, improve our products and services, and provide you with personalized experiences," Microsoft explains in a FAQ. "This data is transmitted to Microsoft and stored with one or more unique identifiers that can help us recognize an individual user on an individual device and understand the device's service issues and use patterns."