Windows 10 preview build 10547 deploys to Insiders, with Start menu tweaks and more
Microsoft's 'Windows as a service' evolution continues, with the usual array of improvements--and rough edges.
Microsoft's also slipped a preview of the Edge browser's Object RTC APIs into the build, which should help developers start tinkering with adding plug-in free video chat capabilities to the browser.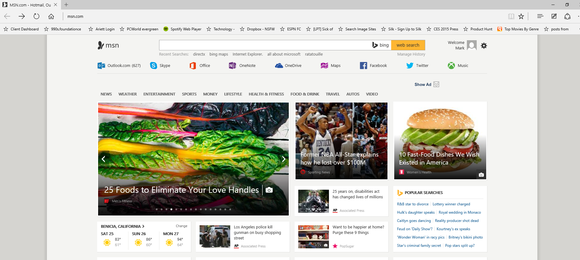 Windows 10's Edge browser. Credit: Mark Hachman
Windows 10 preview build also includes the usual blitz of bug fixes and new broken stuff. One of the new bugs seems annoying, if not quite deal-breaking. Windows Store apps may not update automatically, forcing you to head into the Windows Store app to update your software manually.
The impact on you at home: The Windows 10 preview builds are where adventurous Insiders test bleeding-edge features and tweaks for the operating system, providing feedback to Microsoft's engineers before the fresh goodies are pushed out to the wider user base. If you'd like to participate, open the Settings app and head to Update & Security > Windows Update > Advanced Options and click the Get Started button underneath the "Get Insider Builds" section.