Windows 10 quick tips: 6 ways to speed up your PC
Try these methods to make your machine zippier and less prone to performance problems.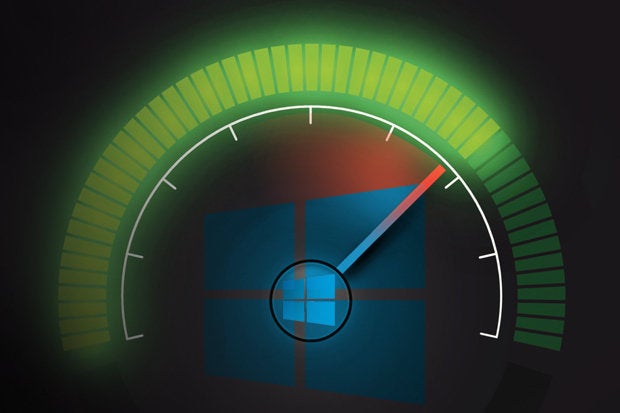 Want Windows 10 to run faster? We've got help. Take a few minutes to try out these tips, and your machine will be zippier and less prone to performance and system issues.
1. Change your power settings
If you're using Windows 10's Power saver plan, you're slowing down your PC. That plan reduces your PC's performance in order to save energy. (Even desktop PCs typically have a Power saver plan.) Changing your power plan from Power saver to High performance or Balanced will give you an instant performance boost.
To do it, launch Control Panel, then select Hardware and Sound > Power Options. You'll typically see two options: Balanced (recommended) and Power saver. (Depending on your make and model, you might see other plans here as well, including some branded by the manufacturer.) To see the High performance setting, click the down arrow by Show additional plans.
To change your power setting, simply choose the one you want, then exit Control Panel. High performance gives you the most oomph, but uses the most power; Balanced finds a median between power use and better performance; and Power saver does everything it can to give you as much battery life as possible. Desktop users have no reason to choose Power saver, and even laptop users should consider the Balanced option when unplugged -- and High performance when connected to a power source.
Change your power settings in Control Panel to give your PC a performance boost.
2. Disable programs that run on startup
One reason your Windows 10 PC may feel sluggish is you've got too many programs running in the background -- programs that you may never use, or only rarely use. Stop them from running, and your PC will run more smoothly.
Start by launching the Task Manager: Press Ctrl-Shift-Esc or right-click the lower-right corner of your screen and select Task Manager. If the Task Manager launches as a compact app with no tabs, click "More details" at the bottom of your screen. The Task Manager will then appear in all of its full-tabbed glory. There's plenty you can do with it, but we're going to focus only on killing unnecessary programs that run at startup.
Click the Startup tab. You'll see a list of the programs and services that launch when you start Windows. Included on the list is each program's name as well as its publisher, whether it's enabled to run on startup, and its "Startup impact," which is how much it slows down Windows 10 when the system starts up.
To stop a program or service from launching at startup, right-click it and select "Disable." This doesn't disable the program entirely; it only prevents it from launching at startup -- you can always run the application after launch. Also, if you later decide you want it to launch at startup, you can just return to this area of the Task Manager, right-click the application and select "Enable."