Windows 10 quick tips: 6 ways to speed up your PC
Try these methods to make your machine zippier and less prone to performance problems.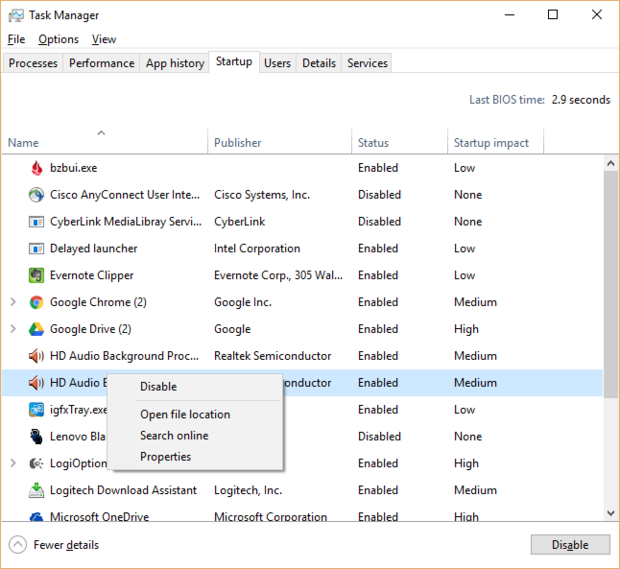 You can use the Task Manager to help get information about programs that launch at startup and disable any you don't need.
Many of the programs and services that run on startup may be familiar to you, like OneDrive or Evernote Clipper. But you may not recognize many of them. (Anyone who immediately knows what "bzbui.exe" is, please raise your hand. No fair Googling it first.)
The Task Manager helps you get information about unfamiliar programs. Right-click an item and select Properties for more information about it, including its location on your hard disk, whether it has a digital signature, and other information such as the version number, the file size and the last time it was modified.
You can also right-click the item and select "Open file location." That opens File Explorer and takes it to the folder where the file is located, which may give you another clue about the program's purpose.
[ Further reading: Review: Windows Server 2016 Technical Preview 4 ]
Finally, and most helpfully, you can select "Search online" after you right-click. Bing will then launch with links to sites with information about the program or service.
If you're really nervous about one of the listed applications, you can go to a site run by Reason Software called Should I Block It? and search for the file name. You'll usually find very solid information about the program or service.
Now that you've selected all the programs that you want to disable at startup, the next time you restart your computer, the system will be a lot less concerned with unnecessary program.
3. Disable shadows, animations and visual effects
Windows 10 has some nice eye candy -- shadows, animations and visual effects. On fast, newer PCs, these don't usually affect system performance. But on slower and older PCs, they can exact a performance hit.
It's easy to turn them off. In the Windows 10 search box type sysdm.cpl and press Enter. That launches the System Properties dialog box. Click the Advanced tab and click "Settings" in the Performance section. That brings you to the Performance Options dialog box. You'll see a varied list of animations and special effects.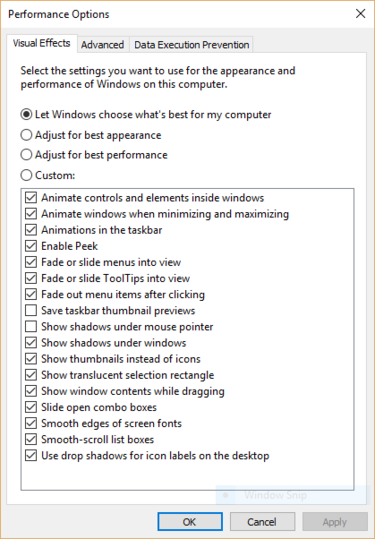 The Performance Options dialog box lets you turn off effects that might be slowing down Windows 10.
If you have time on your hands and love to tweak, you can turn individual ones on and off. These are the animations and special effects you'll probably want to turn off, because they have the greatest effect on system performance:
Animate controls and elements inside windows
Animate windows when minimizing and maximizing
Animations in the taskbar
Fade or slide menus into view
Fade or slide ToolTips into view
Fade out menu items after clicking
Show shadows under windows
Previous Page 1 2 3 4 Next Page