Windows 10 quick tips: 6 ways to speed up your PC
Try these methods to make your machine zippier and less prone to performance problems.
Beyond that, the Resource Overview also reports performance metrics and explanatory details. For example, for the CPU, it might show green and a utilization of 21%, with the details, "Normal CPU load." Or for Memory, it might show yellow, with 62% utilization and the details, "1520 MB is available." Based on what you get, you might want to do something about your hardware -- for example, add more memory.
6. Kill bloatware
Sometimes the biggest factor slowing down your PC isn't Windows 10 itself, but bloatware or adware that takes up CPU and system resources. Adware and bloatware are particularly insidious because they may have been installed by your computer's manufacturer. You'd be amazed at how much more quickly your Windows 10 PC can run if you get rid of it.
First, run a system scan to find adware and malware. If you've already installed a security suite such as Norton Security or McAfee LiveSafe, you can use that. You can also use Windows 10's built in anti-malware app -- just type Windows Defender in the search box, press Enter, and then click Scan Now. Windows Defender will look for malware and remove any it finds.
It's a good idea to get a second opinion, though, so consider a free tool like Malwarebytes Anti-Malware. The free version scans for malware and removes what it finds; the paid version offers always-on protection to stop infections in the first place.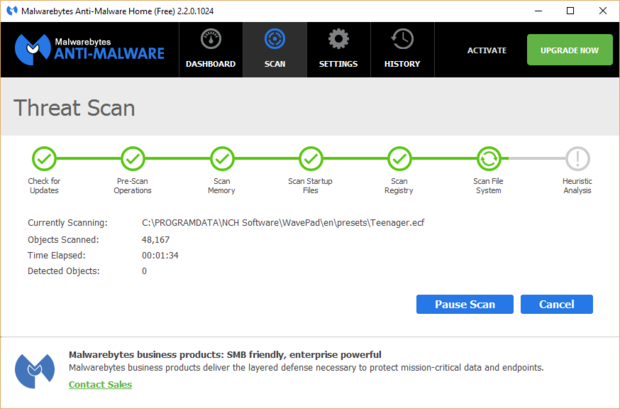 Malwarebytes Anti-Malware is a useful application that will scan for and fix Windows 10 PC problems.
Now you can check for bloatware and get rid of it. Several free programs will do this for you; your best bet is to run several of them, because no single one will find all the bloatware on your PC. Good choices are the PC Decrapifier, Should I Remove It? and SlimComputer.
For more details about removing bloatware, check out Computerworld's article "Bloatware: What it is and how to get rid of it."
Try just some of these tricks, and you'll find that you've got a faster Windows 10 PC -- and one that is less likely to have any reliability problems.
Previous Page 1 2 3 4