Windows 10 quick tips: How to share a single PC
Have employees or temporary workers sharing a computer? No problem -- here's how to do it.
You can, of course, also log in from the lock screen, which displays all of the user accounts on the machine.
One thing to keep in mind when several people use a PC by using separate accounts: Even when someone is not using the PC, she still remains signed into the account unless she signs out or the PC is restarted. So several people might be signed into accounts, even though only one person is actively using the PC.
To see which users are currently signed in, click the account name at the top of the Start menu to see all of the machine's accounts. Look underneath each account. The words "Signed in" will appear under the appropriate accounts.
What does it mean that someone is signed into their account, even if they're not currently using it? When someone is signed in, Windows 10 saves the state of that person's user account -- which applications the person was running, the files they were working on and so on. That way, when he switches back to using the account, everything will be in place, and he won't have to waste time launching apps, opening files and so on.
This is useful, but it can be problematic as well, because it can lead to lost work. When a PC is restarted or shut down, all users on it are automatically logged off. So say someone is logged into her account and hasn't yet saved work -- if the computer is switched to another account, and the person using that second account restarts or shuts down the system, the first person will lose her unsaved work.
(Note: This does not mean that users have any access to the others' accounts. There can be only one active account at a time; an individual user will still need to re-enter the password to see his account.)
The upshot? It's always a good idea to log out of your account before letting someone else use the same computer. It only takes a moment: Click your account name at the top of the Start menu and then click Sign out.
Giving other users administrative access
If you want to let another user have administrator access, it's simple to do. Select Settings > Accounts > Family & other users, click the account to which you want to give administrator rights, click "Change account type," then click "Account type." Choose Administrator and click OK. That'll do it. You can always later change it back to a standard user account, using this same method.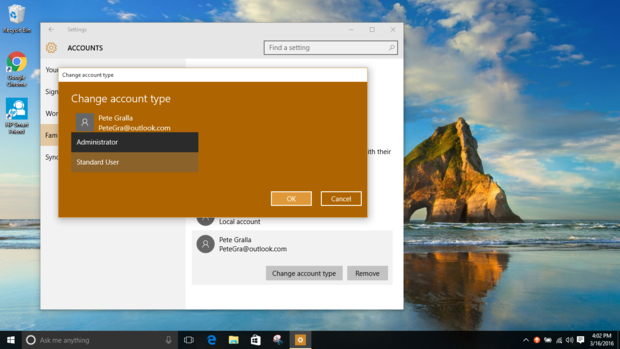 You can change a standard user account to an Administrator account.
Previous Page 1 2 3 4 Next Page