How to avoid WhatsApp viruses, scams and hoaxes
WhatsApp scams are increasingly common, and range from telling you that you'll be charged for the service to offering scam shopping vouchers and dodgy links that download malware. Here are some of the WhatsApp scams you should delete and forget. How to avoid WhatsApp viruses, scams and hoaxes.
By far the most popular WhatsApp hoax is that which suggests the service will start charging inactive users a certain amount per message, so by sending the message on to 10 users they can prove they are an active member and loyal to WhatsApp, and therefore deserving of its free service.
Really? Ask yourself how sending that message you don't pay for to 10 people could possibly keep open the company if it was that desperate for cash? If it were skint, it wouldn't have decided to ditch its subscription fees.
One variation of this message claims to come from the app's founder, "David D. Suretech". Never mind that Brian Acton and Jan Koum are the actual founders of WhatsApp.
It reads: "Hello, I. Am DAVID D. SURETECH founder of Whatsapp. this message is to inform all of our users that we have only 53million accounts available for new phones. Our servers have recently been very congested, so we asking for your help to solve this problem. We need our active users to forward this message to every single person in their contact list in order to confirm our active users that use WhatsApp. If you do not send this message to all your contacts to WhatsApp, then your account will remain inactive with the consequence of losing all your contacts. The automatic update symbol on your SmartPhone Will appear with the transmission of this message. Your smartphone will be updated within 24 hours, and will feature a new design; a new color for the chat and the icon will change from green to azul. Whatsapp will begin to charge unless you are a frequent user. If you have at least 10 contacts send this sms and the logo will become red on your platform to indicate that you are an active user. Tomorrow, we wil begin to take messages for whatsapp for 0.37 cents. Forward this message to more than 9 people in your contact list and the what's app logo on your will turn blue meaning that you have Become a free user for life."
And here's yet another ridiculous variation of the WhatsApp chain message hoax: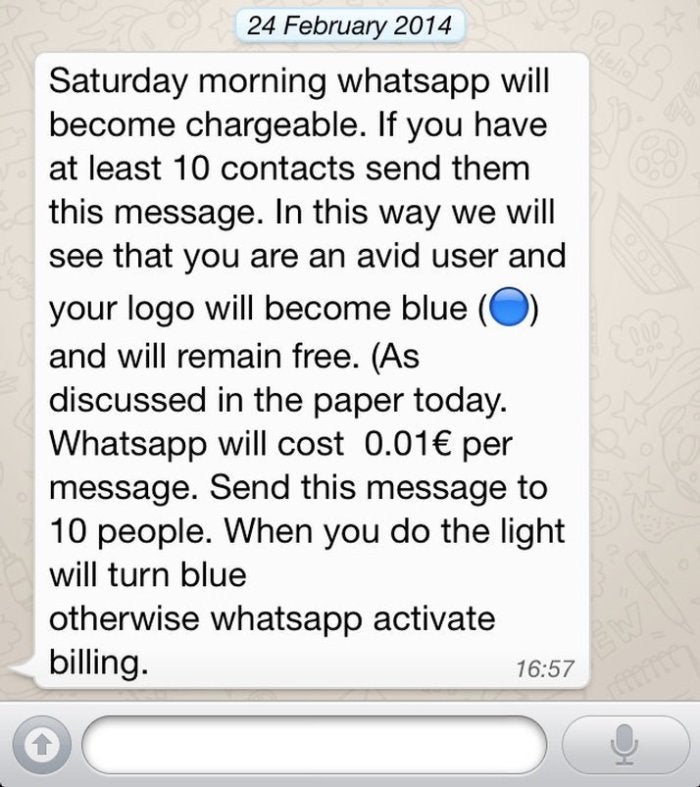 WhatsApp's response to all such scams is as follows: "Please understand that this is a hoax and there is no truth to it."
Read next: What are the two blue ticks in WhatsApp? WhatsApp read message update explained.
Follow Marie Brewis on Twitter.