Crucial BX200 SSD review: Good for casual users, but not for slinging extra-large files
Crucial's new BX200 is the company's first TLC (triple-level cell/3-bit) NAND drive, and I hope it's the last.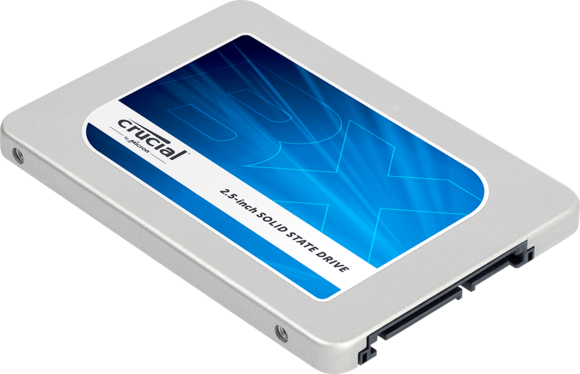 Crucial's new BX200 is the company's first TLC (triple-level cell/3-bit) NAND drive, and I hope it's the last.
The BX200 is difficult to recommend because while it performs very well most of the time, it rolls over and plays dead (on the SSD performance scale) when you write a lot of data to it.
The BX200's sustained write performance is even worse than that of the OCZ Trion and Toshiba's Q300, two drives I've already warned users about. At least the BX200 is priced accordingly—the 960GB version retails for a mere $299, or what those other two drives may some day be discounted to. Crucial has also apparently provided resellers enough margin that you should see the price drop lower than that.
A little cache
The BX200 is actually two drives in one: a very small and fast one that uses DRAM and SLC (single-level cell) memory, and another much larger and slower drive using TLC. In the BX200's case, that TLC can only write data to its cells at about 80MBps. No, that's not a typo. But because of that small cache drive, the BX200 acts just like a high-end SSD most of the time.
We tested two versions of the BX200: the 960GB with 12GB of cache and the 480GB with 6GB of cache. The 240GB version has only 3GB. Below you can see 20GB file copies for the 480GB and 960GB versions drop off right at, you guessed it, the 6GB and 12GB marks.


Write performance consistently drops off when the cache is full. At the 6GB mark for the 480GB BX200 and at the 12GB mark for the 960GB version. Click on image to enlarge.
As you'll see below, everything looks hunky-dory in the artificial benchmark AS SSD for the 960GB version because the 10GB tests fit will within its 12GB cache. Not so with the 480GB version, and you can expect even worse sequential write numbers out of the 240GB version.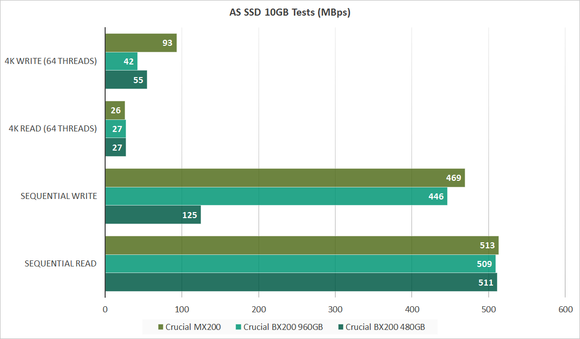 Notice how the 960GB version of the BX200 with its 12GB cache passed muster on this 10GB test, while the 480GB version with it's only 6GB cache did not. (Longer bars are better). Click on image to enlarge.
Even the 960's 12GB of cache is not large enough to mask slow TLC performance in our 20GB copy tests, as seen below.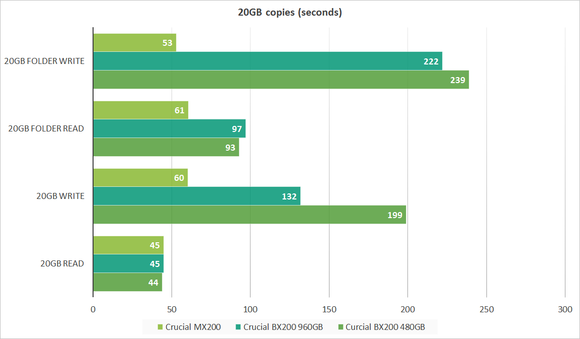 There's no hiding the sustained write drop-off with a 20GB batch of files. After the cache is full, write speed drops to 80MBps—slow for a modern hard drive. Click on image to enlarge.