Intel claims storage supremacy with swift 3D XPoint Optane drives, 1-petabyte 3D NAND
Intel said its 3D NAND will be able to squeeze 1TB of storage into a 1.5mm thick drive by next year.
To be fair to Optane, other public demonstrations from Intel have shown Optane to be just plain fast. Last August, an Intel Optane drive outperformed the company's best SSD (presumably the 750-series drive or better) by more than 7X in a server IOPS test.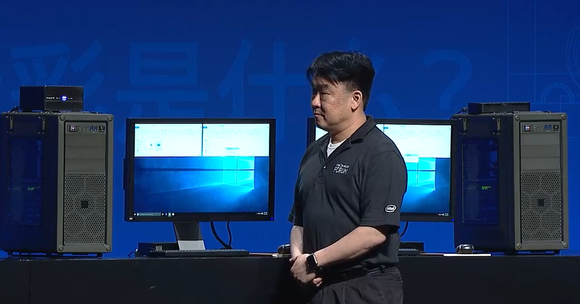 These are the two desktop PCs Intel used for its test that is a little stacked.
How 3D XPoint works
Skepticism aside, Crooke was still pretty pumped about Optane, telling the crowd: "3D XPoint is the biggest single advancement in memory in over 20 years."
Crooke shed a little more light on how 3D XPoint works, too. Unlike NAND, there are no transistors used to build it. A memory cell representing one bit is paired in a column with a selector cell. Wires criss-cross these columns in both directions. To select just one cell in that array, one wire on top is selected, and another on the bottom is selected. A write or read on each bit of data is performed by varying the voltage to it.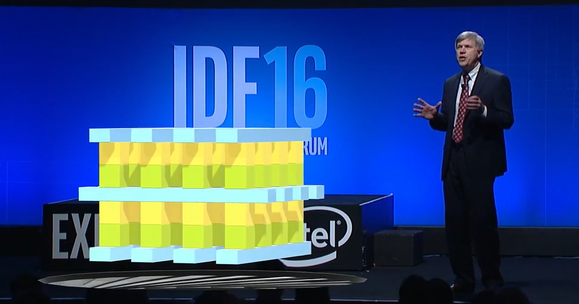 The blue represents wires, the yellow a selector and the green a single bit of data in Intel and Micron's 3D XPoint pervasive memory that's 1,000 times faster than NAND.
This also means accessing data can be done at a more granular and efficient byte-size rather than block-level chunk of NAND. It's like having 100 kitchen drawers for utensils, so you can immediately grab the ice cream scooper from its very own drawer, instead of having to search through two big drawers also containing spatulas, serving spoons, and tongs. All this adds up to delays that are, according to Intel, 1,000 times shorter than a NAND.
"That makes 3DXPoint usable for system memory as as well as great for high-performance storage," Crooke said.
Using Optane for system "memory" is a long ways away, though. From what we know now, you'll see Optane SSDs first as add-in cards when introduced later this year.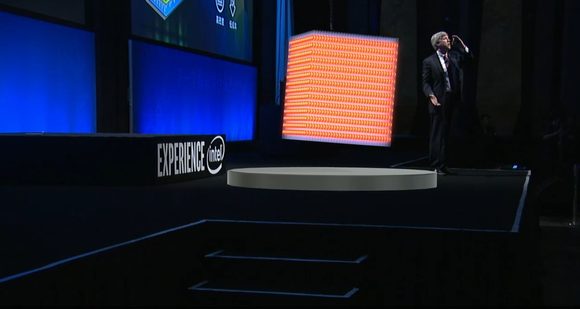 Intel also shed some light on the capacity its upcoming 3D Nand will hit and it's a doozy.
Intel's 3D NAND can pack 1 Petabyte
Crooke also talked up the company's upcoming 3D NAND product. Intel said its 3D NAND will be able to squeeze 384 billion bits in a single die. That means, Crooke said, Intel can now squeeze 1TB of storage into a 1.5mm-thick drive that can go into laptops and tablets. For traditional 2.5-inch drives in a desktop or larger laptop, the company will be able to pack up to 15TB of data. The real bombshell: A 1U rack server with Intel's upcoming 3D NAND will be able to pack 1 petabyte of storage. Just so you know, 20PB is enough to store 13.3 years of HD video.