Intel Optane Memory has a mission: Make hard drives faster than SSDs
Enthusiasts were hoping for more, though.
I booted a NUC PC with a 2.5-inch hard drive to Windows 10, launched the GIMP photo editor, and recorded how long it took to load. I then shut down the NUC and inserted a 32GB Intel Optane Memory drive into the NUC's M.2 slot. I booted back into Windows and launched GIMP. Then I shut down the NUC and booted back into Windows.
Lather, rinse, repeat. With each duplicate task, the launching speed accelerated. The load time for Gimp, for example, dropped from about 14 seconds to 8 seconds, and then to 3 or 4 seconds as the Optane Memory cached the task.
While Optane Memory's mission echoes that of Smart Response Technology, it's a far better implementation. Pairing the drive, or setting it up to cache the hard drive, is truly a snap. You simply fire up the Optane Memory utility, tell it to pair, and you're done.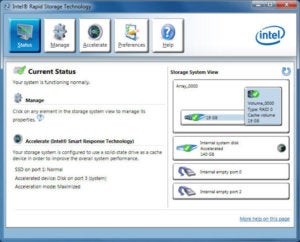 IDG Intel's new Optane Memory borrows heavily from the 2011-era Smart Response Technology.
Anyone who remembers the original Smart Response Technology can tell you it wasn't so easy to use and was prone to pairing problems. Like SRT, Intel Optane Memory keeps parts of the OS on the drive to speed up performance. This means if you want to pull the hard drive from the system, you'll have to unpair it first so you don't jeopardize your data.
The current Intel Optane Memory implementation is also limited to a single hard drive. If you run two hard drives, the second one will see no caching improvement. Very much like SRT, Intel Optane Memory increases responsiveness overall. Of course, anything is an improvement over a hard drive.
Competing with SSD
When the price of a 128GB SATA SSD is roughly $50 to $60 today, you may rightly wonder why Optane Memory would be worth the bother. Intel says most consumers just don't want to give up the capacity for their photos and videos. PC configurations with a hard drive and an SSD, while standard for higher-end PC users, aren't popular among newbies.
Think of the times you've had friends or family fill up the boot drive with cat pictures, but the secondary drive is nearly empty. Intel Optane Memory would give that mainstream user the same or better performance as an SSD, with the capacity advantage of the 1TB or 2TB drive they're used to.
Intel claims Optane Memory performance is as good or better than an SSD's, offering better latency by magnitudes and the ability to reach peak performance at much lower queue depths. (A queue depth is basically how long it takes the system to access data on the hard drive.) Here's an Intel slide that shows the traces of several consumer applications in use. You can see all of the action is with a queue depth of one, two, or three at the most.
Previous Page 1 2 3 4 Next Page