M.2 SSD roundup: Tiny drives deliver huge performance
PCIe plus SSD equals uber-fast storage for your PC. We compare small-slot AHCI, NVMe and SATA models--find out which is fastest here.
No, M.2 (pronounced M-dot-two) is not a government spy organization or secret project. It's a small-form-factor (SFF) multi-purpose connector designed to replace the small mSATA and mini-PCIe slots commonly used in laptops. As such, M.2 isn't designed strictly for storage, (it supports USB, SATA, and PCIe), but storage is a large part of what's driving its adoption—even on the desktop.
Say what? The thing is, M.2's PCIe connectivity has coincided nicely with the migration of SSD drives to PCIe, to sidestep the 600MBps limitation of the SATA bus. The marriage of PCIe and the SSD has resulted in uber-fast storage for your PC.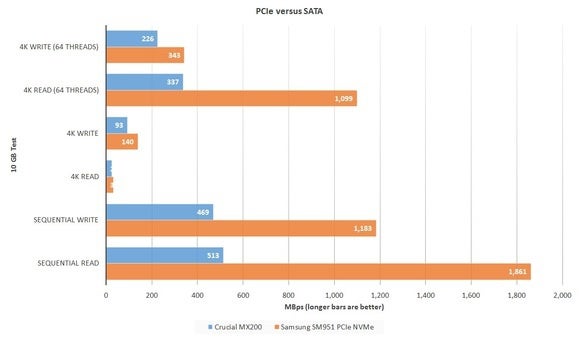 PCIe SSDs simply blow their SATA brethren out of the water in terms of sequential throughput, and in the case of NVMe, queued small writes. Click on image to enlarge.
When I say uber-fast, I'm talking nearly four times the speed of SATA. Yup: 2GBps. It's hard to describe how smoothly your system runs with a x4 PCIe M.2 SSD on board. But I'm going to try, and also let you know which of the currently limited, but excellent selection of M.2 SSDs you should buy. Note that there are also SATA M.2 SSDs, but they're subject to the 600MBps limit. Boring, but handy if that's all your laptop supports.
Don't have an M.2 slot on your system? If you're talking about a desktop, you're in luck. Simply add a $25 PCIe M.2 expansion card, such as the Addonics AD2M2S-PX4 PCIe we used for some of our testing.
Head to head
We took six M.2 SSD drives for a spin. The state of the art was represented by these drives:
The $240, 256GB Samsung SM951 PCIe (AHCI)
The $240, 256GB Samsung SM951 PCIe (NVMe)
The $499, 480GB Kingston HyperX Predator PCIe (AHCI)
We also ran a last-generation $200, 256GB Samsung XP941 PCIe (AHCI) through its paces.
Also included are two SATA M.2 drives:
An older $300, 320GB Intel 530
A newer $99, 256GB Samsung EVO SATA drive
To be perfectly honest, we included SATA drives only to show you the enormous performance gains offered by PCIe. Sneaky, eh?
Lastly, there was the aging $220 Plextor M6e, the first M.2 PCIe (AHCI) drive we ever tested. It's included to show just how far things have come in a little over a year.
You may have noticed the parentheses indicating whether the PCIe drives were AHCI (Advanced Host Controller Interface) or NVMe (Non-Volatile Memory express). AHCI is basically the SATA protocol implemented over PCIe (or any bus really), while NVMe is a new communications protocol designed from the ground up for non-volatile storage. AHCI over PCIe removes the 600MBps bandwidth limit, but NVMe offers some advantages for multi-threaded operations, as you'll see in the 4K queued test results seen below.