M.2 SSD roundup: Tiny drives deliver huge performance
PCIe plus SSD equals uber-fast storage for your PC. We compare small-slot AHCI, NVMe and SATA models--find out which is fastest here.
The only issue with NVMe is that your system must support booting from it. All the motherboards I've seen that offer a PCIe-enabled M.2 slot allow booting from NVMe, but if you're adding M.2 to your desktop via a PCIe expansion card, you may need to go AHCI. Any motherboard of relatively recent vintage should support booting from AHCI.
Performance
All testing was done on an Asus X99 Deluxe/U3.1 motherboard with 32GB of DDR4 and an Intel Core i7-5820K. We used the motherboard's integrated PCIe-only M.2 slot for the AHCI/NVMe SSDs, while SATA drives were tested using the aforementioned Addonics AD2M2S-PX4 PCIe expansion card. Note that the AD2M2S-PX4 doesn't have a dedicated SATA HBA (host bus adapter). It simply uses SATA cables from the motherboard that plug into the card.

PCIe M.2 drives rock when it comes to raw sequential throughput. Click on image to enlarge.
As you can see from the charts, the results were split dramatically by technology. The PCIe drives won by huge margins in flat-out sequential read speed, something you'll notice when you copy large files. NVMe proved faster than AHCI when it's fed small files from multiple queues (the AD SSD 4K/64 threads test). Whether this scenario occurs depends upon your operating system and NVMe driver.

When threaded, NVMe can really strut its stuff with small files. It's the reason NVMe showed up in servers first. Click on image to enlarge.
Keep in mind that M.2 PCIe, and PCIe drives in general, are relatively new technologies. The SM951 AHCI, only a single generation removed from the XP941 AHCI, is dramatically faster. Both are x4 PCIe, but the XP941 is PCIe Gen 2 (500MBps per lane), while the SM951 is PCIe Gen 3 (1GBps) PCIe. But even the x4 PCIe 2.0 provides 2GBps of bandwidth, so that can hardly explain the entire disparity.

The difference in small file performance between SATA and PCIe isn't as dramatic, but still shows the advantages. Click on image to enlarge.
Having previously experienced only the Plextor, Kingston and XP941 AHCI drives, we were surprised and pleased to see that the SM951 AHCI was competitive with its NVMe sibling. Also note that in our real-life 20GB tests, the Kingston proved almost as fast as either Samsung drive.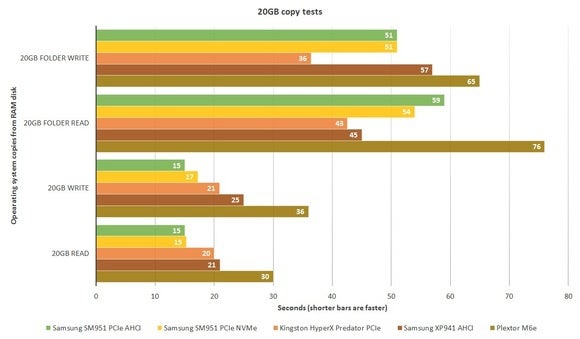 All these drives are faster than SATA-bound SSDs, writing a single large file, but the Plextor M6e is actually slower than some when it came to writing small files and folders. Click on image to enlarge.
Previous Page 1 2 3 4 Next Page