Nantero's carbon-nanotube memory could replace SSDs and DRAM
Nantero's new carbon-nanotube chips could replace DRAM, solid-state and hard drives in PCs, and bring more storage to wearables.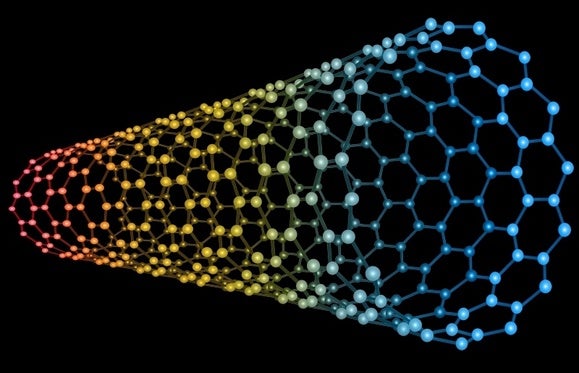 A new low-power, high-speed memory technology on the horizon could replace solid-state drives, hard drives and DRAM in PCs, and bring higher levels of storage capacity to mobile devices and wearables.
The new memory from Nantero, called NRAM (nonvolatile RAM), is based on carbon nanotubes. The memory is hundreds of times faster than flash storage used in mobile devices and SSDs, claimed Greg Schmergel, CEO of the company.
Carbon nanotubes are cylinders made out of carbon atoms, with a diameter of one to two nanometers. The nanotubes are known to be stronger than steel, and better conductors of electricity than other known materials used in chips, making the technology an excellent candidate for storage and memory.
Nantero's NRAM operates at the speed of DRAM and is nonvolatile, meaning it can store data. The small size of carbon nanotubes allows more data to be crammed into tighter spaces, and the storage chips will consume significantly less power than flash storage and DRAM. That could bring more storage and longer battery life to laptops and mobile devices.
The company's NRAM is also extremely durable, Schmergel said. It was tested by Lockheed Martin and NASA on the Atlantis shuttle mission and bombarded with radiation, but the memory remained stable in extreme temperatures.
Nantero, which was formed in 2001, has spent 14 years refining carbon nanotubes, which has been researched for decades by universities, the U.S. government and companies like IBM and Intel. Many top chip and device makers have shown interest in NRAM, which is now ready for manufacturing, Schmergel said.
Beyond mobile devices and PCs, carbon-nanotube chips could be suitable for wearables or Internet of Things devices, which need higher-capacity internal storage. It could also be used in virtual-reality headsets and in data centers for caching or long-term storage, Schmergel said.
Nantero won't make the NRAM, but license the technology to device makers and manufacturers. The first NRAM chips will appear as DRAM-compatible modules that can be plugged directly into memory slots on motherboards.
"We are designing chips that are DDR3 and DDR4 compatible, you just put in carbon-nanotube memory," Schmergel said.
Devices makers will be able to put carbon-nanotube storage on top of NAND flash circuitry so it fits in mobile devices and PCs. The technology will be compatible with storage, memory systems and protocols that exist today, Schmergel said.
The NRAM chips should arrive in the next few years, Schmergel said, adding that chip and device makers are designing the memory into new products.
The chips could initially be priced at a premium, but as the manufacturing volume increases, the prices will decrease. Over time, Schmergel hopes the memory will be priced competitively, or even cheaper than DRAM and NAND flash storage.