Sandisk Extreme 900 SSD review: 10Gbps USB 3.1 performance at last!
This drive is a great taste of the kind of speeds we want. More, please!
Performance
For our first test, we trotted out AS SSD, which rated the Extreme 900 at 796MBps when reading sequentially. Because of Extreme 900's TLC NAND, AS SSD write performance varied from 781MBps when the TLC-as-SLC (Single Level Cell/1-bit) cache was in play, to 598MBps when the cache was exceeded. In normal use, you'll generally see the higher number. But either way, we're talking about an external drive that's almost 400MBps faster reading, and at a minimum, 200MBps faster writing than its closest competitor. Note that Sandisk wouldn't tell us how much TLC was used as SLC cache, but in the industry so far it's generally between 1.5% and 2% of total capacity.
Reading/writing a single 20GB file hit speeds of 666MBps and between 550MBps and 454MBps, respectively. The speed was again dependent upon whether the cache was in play. If we started consecutive operations too soon, the numbers dropped. Note that our real-world copy tests are always slower than the numbers generated by synthetic benchmarks.
The Extreme 900 ships formatted in universally readable/writable exFAT, so it can be used with any device that can deal with USB mass storage. But exFAT is the performance kiss-of-death when writing (not reading) small files and folders; formatted in exFAT, it took the Extreme 900 nearly four minutes (84MBps) to copy our 20GB mix of files and folders. After reformatting to NTFS, that dropped to 89 seconds (224MBps). Even with NTFS, that's considerably slower than the sequential numbers.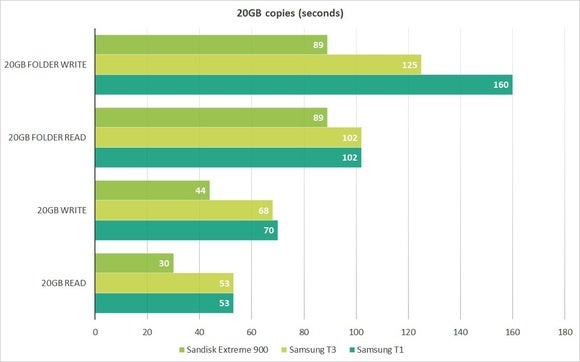 If you want to cut your backup and copy times drastically, buy a USB 3.1 10Gbps card and the Extreme 900. All results reflect NTFS formatting, rather than the exFAT it ships formatted to. (Shorter bars are better). Click on image to enlarge.
There's one large caveat with 10Gbps USB 3.1 in general: You'll find it only on newer PCs, and not even all of those. To benchmark SanDisk's drive on our year-old testbed, we had to grab a $36 Atech Flash Technology Blackbird MX-1 USB 3.1 Gen II Host Card add-in card. It was well worth it, but it's a solution that laptop users won't be able to enjoy.
Instead, laptop owners are stuck with whatever their machine supports out of the box. On laptops with Thunderbolt 3.0 ports, you'll also get 10Gbps speeds, but only on those using Intel's high-speed Alpine Ridge controller. Even so, the Extreme 900 is a good performer using 5Gbps USB 3.1 or 3.0. It clocked write speeds of 420MBps and read speeds of about 410MBps—as fast or faster than any external USB SSD on the market. And, of course, you get your speed bonus when you move to 10Gbps USB.