TLC NAND SSDs: The crippling problem storage makers don't advertise
What you need to know about the new breed of SSDs.
The Unusual Suspects
TLC first showed up a couple of years ago in Samsung's 840 EVO SSD. Samsung was honest about the performance issue, even if it didn't advertise it very much. Below is their own chart of performance when writing to the cache (TurboWrite) and when writing to the TLC.


You can see the difference that the TurboWrite cache made in the Samsung 840 EVO's performance. A small dollop of DRAM didn't hurt either. Click on image to enlarge.
Below are the AS SSD 1GB and 10GB benchmark results for the newer 850 EVO (256GB) with its V-NAND TLC.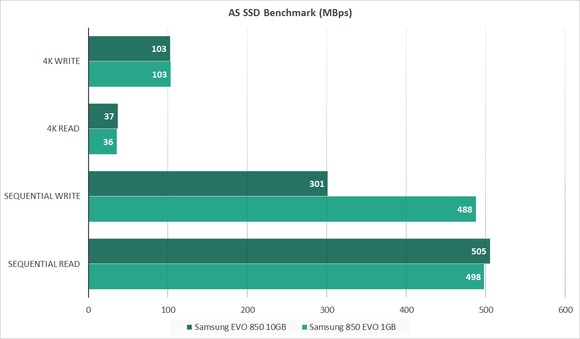 (longer bars are better). Click on image to enlarge.
OK, that's a relatively mild, livable drop-off in sequential write performance. That's why it wasn't particularly big news at the time. That, and the 850 EVO's then-low ball pricing. Now look at the test featuring Toshiba's new Q300 (not the Q300 Pro) and its single-layer TLC NAND.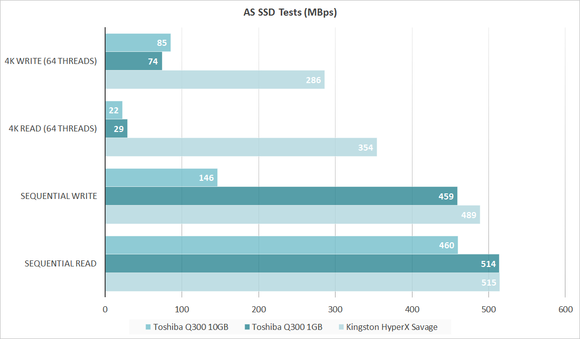 (longer bars are better). Click on image to enlarge.
Sustained write performance with a 1GB data set is 459MBps, but with a 10GB data set—146MBps. OK, that's better than the BX200, but the drop-off occurs earlier and you're still writing only as fast as a hard drive, albeit a top-notch one. Below you can see just how much faster an MLC drive (the Kingston HyperX Savage) is compared to any TLC drive when writing large amounts of data. Check out the 20GB write speeds. The 960GB version of the Toshiba Q300 was actually beaten, and handily, by a dual-hard drive, RAID 0 external USB 3.0 drive.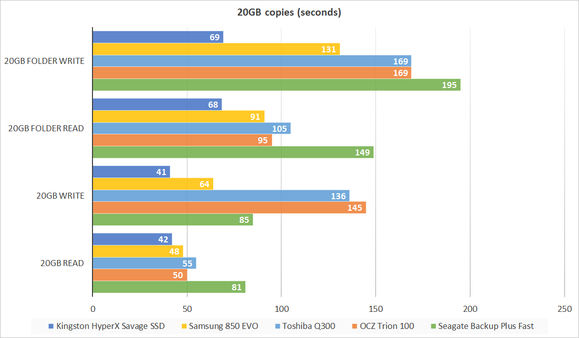 Our 20GB copy tests illustrate the TLC write slowdown. A relatively mild drop-off with the 850 EVO but a severe one with the other drives. The green bars represent an external USB 3.0 RAID 0 drive to show just how slow things can get. (shorter bars are better). Click on image to enlarge.
Little discount for discounted performance
Now that you know about TLC's sustained write performance drop-off, let's visit the relevant conundrum: Pain versus gain. As read performance and the larger percentage of write operations are SSD-worthy, how often will the sustained write issue affect you, and how much money can you save by putting up with it?
In the case of Samsung's TLC drives, excepting the 120GB and 240GB versions of 840 EVO, performance is quite livable, even when directly writing to the TLC. The pricing is pretty decent as well at the moment, though there are cheaper MLC drives with better sustained write performance readily available.