Apple should give customers free iCloud space to match their devices
The newly refreshed MacBook has fixed storage that tops out at 512GB. Some Mac laptops even start at 128GB! That just isn't enough, and we think the answer is in the cloud.
The new MacBooks announced Tuesday aren't very upgradeable: You can bump up the processor in either model to a 1.3GHz Intel Core m7 for a $150 upcharge, and they both come with 8GB of RAM. But you can't upgrade the storage. The $1299 model has 256GB, and that's all it will ever have. The $1599 model has 512GB, and that's as high as it goes.
I love portable Macs, but I also have a lot of files, and managing them on my 256GB MacBook Air is a chore. The biggest offender is my local Dropbox folder, which I use to back up my iPhone's Camera Roll, but I also can't keep a big iTunes library on this machine, or even local iTunes backups of all of my iPhones and iPads. I've got two USB drives mounted whenever I'm at my desk: one for Time Machine, and one for just offloading device backups and big files.
My data-juggling act would get a lot easier with a terabyte of storage, but that's hard to find in a Mac laptop. The 13-inch MacBook Pro with Retina display only offers a storage upgrade for the most-expensive $1799 model, which comes with 512GB of storage off the shelf but can go to 1TB for $500 more. (It's worth mentioning that the entry-level 13-inch MacBook Pro only offers 128GB of storage for $1299, the same price as the 12-inch MacBook with 256GB.)
Both models of 15-inch MacBook Pro with Retina display offer storage upgrades. The $1999 model that comes with 256GB of storage can go to 512GB for $300 more or 1TB for $500 more. And a $500 1TB upgrade is also available for the $2499 model. That means that Apple will sell you three MacBook Pro configs with 1TB of storage, staring at $2299 for a 13-inch model, and $2499 to $2999 for the 15-inch model. None of those are in my price range—and like the 12-inch MacBook, the MacBook Air has no terabyte option at all. But maybe there's another way to get the storage I need.
iCloud to the rescue?
In the fall of 2014, Apple cut the prices on iCloud storage to fall more in line with competitors like Amazon and Google. But the best thing Apple could do is recognize that we're already paying a lot to play in its garden, and throw in free iCloud storage that matches the capacities of our Macs, iPads, and iPhones.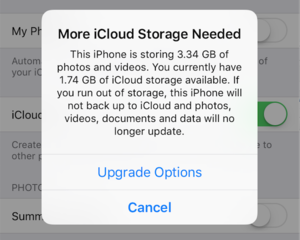 It wouldn't have to be forever. Just start me off with a year or two and I'd probably keep paying for it when the time ran out. Apple made headlines last week for updating its environmental FAQ with estimates the typical "years of use" life span of its devices: The company "assumes" Macs and Apple TVs will be used for four years, and iPads, iPhones, and Apple Watches for three. Even rounding that down to two years for each new device would be sufficient, and Apple could even exclude Apple Watch and Apple TV from the deal, since those don't need associated iCloud storage nearly as much.