As police move to adopt body cams, storage costs set to skyrocket
Petabytes of police video are flooding into cloud services.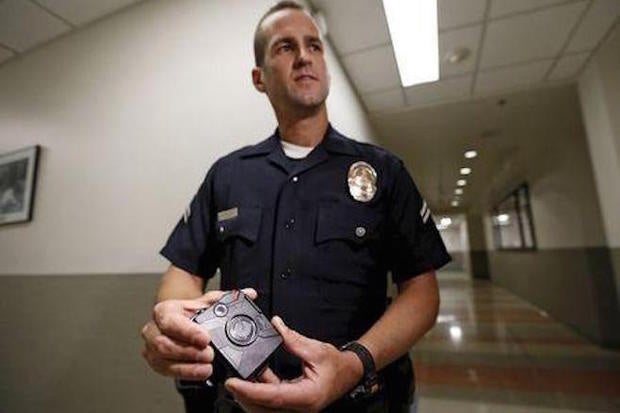 Los Angeles Police Department information technology bureau officer Jim Stover demonstrates the use of the body camera during a media event surrounding the force's deployment of the technology this week. Credit: REUTERS/Al Seib/Pool
The police department in Birmingham, Ala. has seen a 71% drop in citizen complaints -- and a 38% drop in use of force by officers -- since deploying 319 body cameras two months ago.
The cameras have been so effective that the department plans to buy another 300 cameras from Taser International.
"The chief's goal is to get a camera on everybody who wears a uniform," said Capt. William Brewer, who heads up Birmingham Police Department's Technology Division.
Birmingham is among a growing number of police departments that are rolling out body cameras, spurred in large part by public pressure in the wake of a series of controversial police shootings of civilians. That pressure first began to mount nationally last year in the wake of the shooting death of Michael Brown, in Ferguson, Mo. Several other high-profile police shootings since Ferguson have added fuel to the body camera fire.
Even so, there's been little focus on the larger ecosystem needed to make the cameras useful, including potentially high storage costs -- petabytes of video are now being uploaded annually -- and file management concerns.
In Birmingham, for instance, the the video cameras themselves cost about $180,000, but the department's total outlay for a five-year contract with Taser will be $889,000. That's because the pact not only includes a hardware replacement warranty, but the necessary cloud storage and file management service to deal with terabytes of content the cameras are producing.
The Birmingham police initially purchased 5TB of online storage on Evidence.com, Taser's file management cloud, which is built on Amazon's Web Service (AWS) platform. In just two months, however, the department has already used 1.5TB of its allotment -- and it's on track to exceed the 5TB limit in about six months.
"That's the biggest problem with this system...the cost of the storage," Brewer said. "They do offer unlimited storage, but it's quite costly -- well above $1 million for the package we had looked at."
Traditionally, police departments saved dash camera footage and other videos on CDs stored away in an evidence room or on an onsite server. But with the increasing use of body cameras, dashboard cams and cameras within the police department itself, the amount of video content now being generated is far more difficult to manage locally.
The cameras are just the start
Body cameras are the fastest growing segment of the police video camera business. The two largest police body camera manufacturers today -- Taser and VieVu -- say they've shipped devices to 41% of the nation's 18,000 police departments.