As police move to adopt body cams, storage costs set to skyrocket
Petabytes of police video are flooding into cloud services.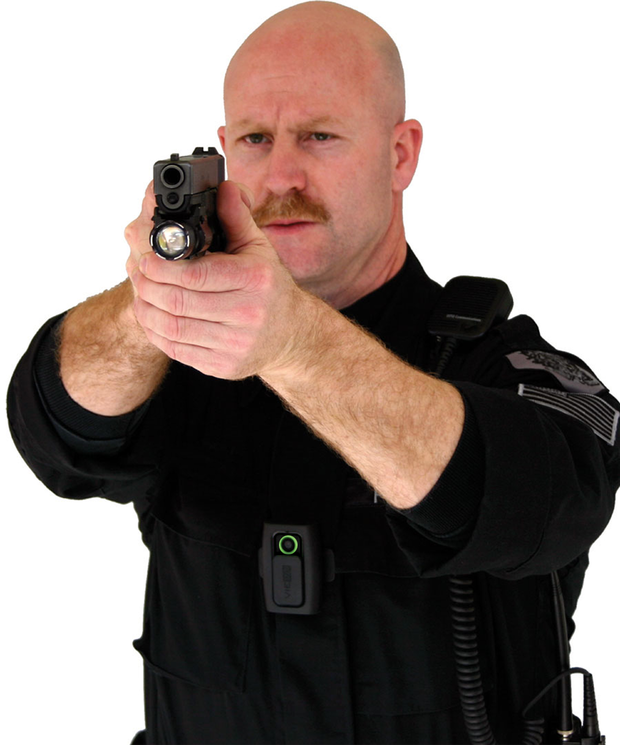 VieVu's LE3 body camera mounts to an officer's vest or shirt. Credit: VieVu
But it's not the cameras that generate the most money. Glenn Mattson, who follows Taser as an equity analyst for Ladenburg Thalmann, said the company makes a far bigger profit on its storage service than hardware. Last year, Taser's gross profit margins on hardware were 15.6%; the gross margins for video storage were 51%, Mattson said.
"There's no contest. They don't care about making money on the cameras," Mattson said. "If they can just break even on them, it's fine, because they're going to create this high margin stream of revenue on the video side."
Mattson believes that, on average, police departments pay Taser from $25 to $30 per officer per month right now. But he expects that to rise, and compared the police video storage business to cable subscription services. While the initial cable subscription is usually a great deal, once new services are added, rates climb.
Mattson believes Taser's plan is to add features so it can become a police department's default system for every kind of digital evidence, including photos, police reports and forensics data.
The cost of data storage has forced the Birmingham Police Department to make hard decisions when it comes to deleting videos to free up space. Since Alabama records retention laws haven't caught up with video technology, police departments are left to determine their own policies.


Taser's two camera models, the Axon Body, a self-contained unit worn on a vest or shirt, and the Axon Flex, which can be affixed to an officers cap or glasses. Credit: Taser International
Birmingham has come to a consensus with its district attorney on a general retention period of two years, but it's still "battling" with its own legal department.
"We're still trying to make sure we don't delete them in violation [of] Alabama records retention laws," Brewer said. "Unfortunately, our state, along with probably many other states, has not caught up yet in dealing with this type of technology."
How long police departments store video varies widely depending on local policies. But in some cases, such as a murder investigation, the video will need to be stored forever.
Brewer said his department will likely have to extend the video retention period from two to two-and-a-half years, not because of criminal investigations, but because of lawsuits and civil litigation.
"In our state, [citizens] have up to two years to file a lawsuit. So we need to realistically keep everything two-and-a-half years to give us time to be notified of an impending suit," he said. "They're always wanting that video after it's rolled off the server."
A sales chart 'like a hockey stick'
Previous Page 1 2 3 4 5 Next Page