For IT, climate change means preparing for disaster
Disaster protection may be a top reason behind many cloud migrations.
IT managers understand the hazards of heat inside data centers. But what about outside it?
Cordell Schachter, the CTO of the New York City Department of Transportation (DOT), who went through Hurricane Sandy in 2012, says climate trends will increasingly impact IT operations.
"At one time, you could go through a whole career without facing one of those situations" -- something like a Sandy -- said Cordell. But he now believes if "you have a career spanning more than a decade" you may see one or two major weather events.
Scientists are increasingly connecting extreme weather events to man-made climate change. Insurance claims are rising.
Weather-related disturbances are the leading source of grid outages, and that includes heat that increases grid load and effects its efficiency, according to the U.S. Department of Energy.
The warmest year on record for the planet was 2015, and this year is on track to beat it.
In fact, 15 of the 16 warmest years have been since 2000, according to an analysis by NASA and the National Oceanic and Atmospheric Administration.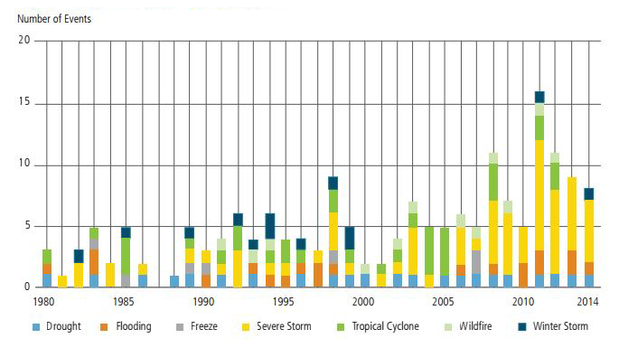 U.S. Department of Energy Costly weather-related disasters have been increasing in frequency over the past decade.
Spending on disaster recovery (DR) tools and systems is rising, but not dramatically. But DR spending doesn't fit into a neat category. When a business decides to move to a cloud-based service for compute resources and software, improving disaster resilience may now be a leading reason for this decision.
Computer Economics says it is seeing "solid growth" in infrastructure as service, "and we think disaster recovery is a key driver," said John Longwell, vice president of research at Computer Economics. With infrastructure as a service (IaaS), users access compute resources remotely.
For disaster recovery tools and services specifically, IDC says the global market for data protection and recovery services is about $6 billion, which grew at 7.2% in 2014.
Interest in disaster recovery planning increased after the 9/11 terrorist attacks, but "many pulled back because of the cost of maintaining two centers," and paying for idle equipment, said Phil Goodwin, a research director at IDC. Cloud-based services are changing that.
The fastest growing segment of disaster recovery is "disaster recovery as a service," said Goodwin.
There may be 150 or more firms providing disaster recovery as a service (DRaaS).
Taco, Inc., an HVAC manufacturing company in Rhode Island, maintains servers in a back-up facility run by a disaster services provider. But by the end of this year, the company hopes to complete a move to a disaster recovery as a service provider.
Dennis Rachielle, a senior network administrator at Taco, says the firm has been shifting DR services to VMware vCloud Air disaster recovery as a service.