How to put your DVD library in the cloud
Free your films from their shiny silver prisons so you can watch them forever on your phone, tablet, Roku box, game console, and other devices.
DVDs are so analog. Sure, they're digitally encoded versions of your favorite movies and TV shows, but they're trapped on physical platters. If you want to watch something, you have to find the disc, slide it into a DVD player—or a computer with a DVD drive—and flip your TV to the proper input.
As DVD players leave the market and DVD drives disappear from PCs, it's time to free your films from their shiny silver prisons so they'll still be watchable in the player-free future. As a bonus, ripping your movies off the disc extends your viewing options to your phone, tablet, Roku box, game console, and more.
Once you convert your movie library to digital files, you can store those files on a server and stream them anytime, from anywhere. Media companies are slowly waking up to how convenient this is and are building services like Flixster, Ultraviolet, and Vudu, which offer DVD-to-digital conversions: Pop a disc into your PC, and the service adds it to your online account—at which point you can stream it to an app or to a set-top box.
Each such conversion will cost you a few bucks, however, and you won't be able to convert some movies (owing to studio-imposed restrictions). But you can take a more hands-on approach and accomplish the same thing yourself, spending little or no money in the process.
Get ripping
To turn a real-world DVD into a digital file that you can stream to the viewing platform of your choice, you have to rip it from the disc. As with ripping CDs, you'll copy the contents of a DVD to your computer, and then convert those contents to a cloud-friendly format. In order for this to work, obviously, you must have access to a PC with a DVD drive.
One quick caveat: Though the police won't break your door down for ripping DVDs that you already own, the process does technically violate copyright law. Still, as long as you're not sharing movies on BitTorrent or selling copies on the street, it qualifies as fair use—just as ripping CDs (which is technically legal) does.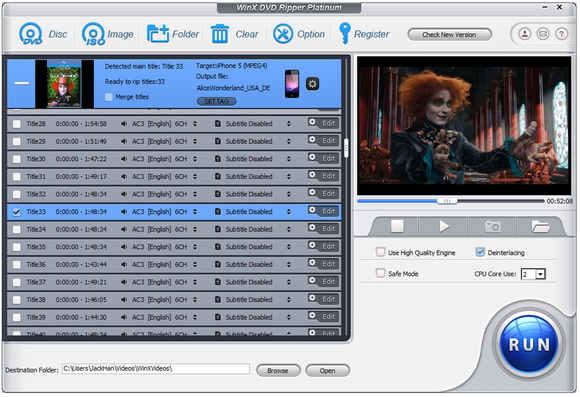 DIGIARTY SOFTWARE. If you want the solace of having a tech support team to call in case of technical difficulties, you can buy decent DVD-ripping software like WinX DVD Ripper Platinum.
That said, you'll need a DVD-ripping utility that can remove the Content Scrambling System (CSS) or similar built-in protections that prevent straight-up copying. You can buy a commercial ripper like DVDFab DVD Ripper ($50) or WinX DVD Ripper Platinum ($40), both of which circumvent most copy protection schemes and convert the discs to the mobile- or home-theater-friendly format of your choice.