Intel declares independence from the PC as it lays out a broader 5-point strategy
The PC's just another 'connected thing' in this new world order.
The message has trickled down in speeches, earnings calls, and analyst presentations, but on Tuesday, Intel chief executive Brian Krzanich drew a line in the sand: Intel is not a PC company any more.
In what only can be called a manifesto of Intel's new values, Krzanich described how Intel is transforming itself "from a PC company to a company that powers the cloud and billions of smart, connected computing devices." To drive the point home, Krzanich noted that the PC is just one among many connected devices.
What might be called the "new" Intel will be built upon five pillars, Krzanich said:
The cloud—including servers, data centers, and virtualization
Connected "things," such as sensors, autonomous vehicles, or PCs
An evolving memory business, from 3D XPoint memory to advances in server and data center infrastructure
Connectivity, specifically 5G networking
Manufacturing and the underlying fab technology.
About 40 percent of Intel's revenue and 60 percent of its profit margin already come from outside the PC, Krzanich said last week, when the company began publicly signalling its new focus. "It's time to make this transition and to push the company over all the way to that strategy and that strategic direction," Krzanich said then. "That's why we wanted to do it now."
Cloud first—wait, we've heard this before
Historically, Intel has been built on a single foundation: the microprocessor, which powered the majority of the world's PCs, then servers, then notebooks. Now, Intel's evolution looks surprisingly like that of Microsoft: predicated upon the cloud and potentially billions of connected, mobile devices, with a broad, diversified product line to address a multitude of opportunities.
"We will also lead by becoming a company with a broader focus, and with sharper execution," Krzanich wrote Tuesday. " In doing so, we will create lasting value for our customers, partners and shareholders, and achieve our mission to lead in a smart, connected world."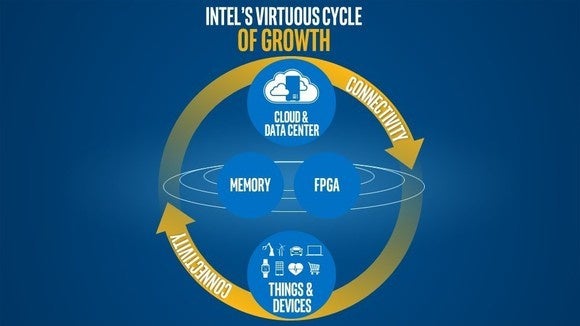 Intel's "virtuous cycle" of growth. Credit: Intel
You had only to attend Intel's Intel Developer Forum conference last August to see this coming: Krzanich barely mentioned the company's Skylake PC processor, focusing on Intel's push in the Internet of Things instead. Ditto for Krzanich's CES 2016 keynote address, where he played ringmaster to a circus of devices showing off Intel's embedded silicon. Finally, Krzanich reorganized Intel shortly before announcing its first-quarter earnings, where he divulged that each of its PC and IoT projects were being evaluated for possible cancellation

Intel believes processors like this Xeon E5 chip will power tomorrow's data centers.
Now, like Microsoft, Intel sees the cloud as the driver of Intel's business. The company can charge thousands of dollars for a Xeon processor that powers a server, but just a fraction of that for a standard Core chip.