Lessons learned from Cloud World
It's easy to despair about the cloud computing industry and its seemingly endless navel-gazing. It often seems that the cloud crowd is more interested in internecine warfare than actually helping customers realize the benefits of this emerging platform. The prime example of this tech narcissism is the ongoing industry slugfest regarding private/public/hybrid cloud and what the "right" solution is.
Today, JLR IT is significantly improved, although Headlam acknowledged it remains a work in progress. How did it make this improvement? Headlam pointed to the following:
A move to standardized infrastructure. Previously, JLR infrastructure and software packages were a jumble of one-of-everything. Now it's focusing on using external clouds to run applications where possible, thereby enabling JLR to focus on applications.
Greater adoption of agile practices to accelerate application development and deployment timeframes.
Widespread use of open source componentry to build new applications and IT tooling. One of the primary drivers for this adoption is the far lower cost of open source, critical in a small player in the highly competitive auto industry.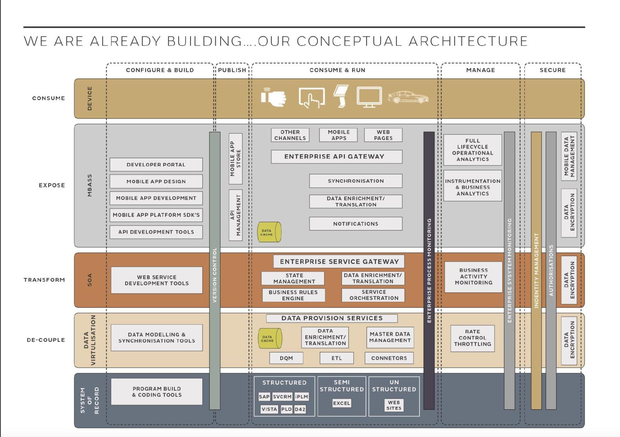 JLR's conceptual architecture shows both improvements and growth opportunities within its stack. (Click to enlarge photo)
Headland presented JLR's conceptual architecture (see the image above), but noted that while the company had achieved great agility at the "Consume" layer, it still suffered from legacy capabilities lower down the stack. Nevertheless, JLR has realized significant benefits from moving toward its IT vision. Today, instead of the previous 90 percent, only 25 percent of IT personnel are devoted to maintaining the legacy environment. The rest can focus on transformation and next-generation applications.
Ordnance Survey: meeting the digital challenge
Ordnance Survey (OS) is well-known to U.K. hikers from its maps, which are extremely detailed and form the basis for tramping around the hundreds of miles of British footpaths.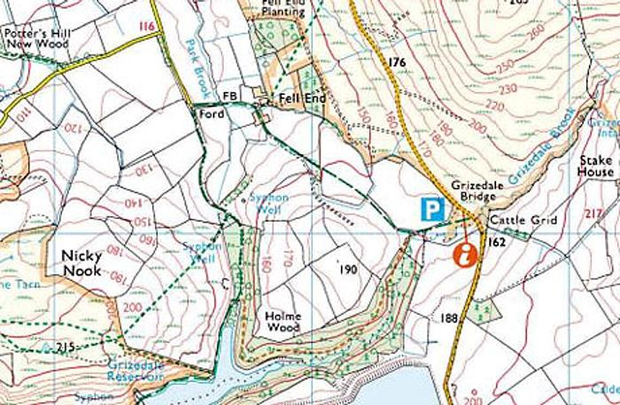 Ordinance Survey is known in the U.K. for its detailed topographical maps aimed at the hiking community.
However, OS is responsible for far more than making it easy for hikers to find their way around the English countryside. Its work is involved with climate and weather, public works, satellite mapping information and more. In other words, just as JLR is transitioning from a physical to a physical-plus-digital products company, so too is OS. And, just like JLR, its IT processes were rooted in a time in which the digital component of its product offering was far smaller and less time-critical. The fact that its products are now digital means there are many more business opportunities based on repurposing the data, or combining its data with another entity's to create a new offering. The clear implication: OS needs to move faster and create applications more rapidly.
OS architect/consultant Simon Parkes' presentation focused a lot on the nuts-and-bolts of migrating from trouble ticket-driven manual processes to automated DevOps systems. Upon tracking the flow of work from developers through to production, Parkes' team identified all the places that work occurred and how long each step took. As you'd expect, this effort identified several bottlenecks.
Previous Page 1 2 3 4 Next Page