AirPods review: They sound great, but Siri holds them back
iPhone fans will love the sound and design of Apple's wireless earbuds, and no, they won't fall out of your ears.
Siri can also control Apple Music and your own music collection stored in Apple's Music app. But Apple chose not to give full Siri control to third-party music apps, and that's a huge bummer when you try to use earbuds that require the use of Siri. In Spotify, I could turn the volume up and down, and skip to the next track. But to start a song over (three clicks on the EarPods remote, thank you very much), I couldn't say "start this song over," though "go back one track" was more responsive. And, obviously, I couldn't call up specific artists, albums, playlists, and songs. The AirPods are at their best when you are all-in with Apple devices and services. If you're a die-hard user of Spotify or Pandora, these might not be the headphones for you.
But either way, Siri is just too slow and buggy to be a rock-solid control set. I quickly found myself wanting to just use the controls on the iPhone itself. As a side note, I've never appreciated iOS 10's Raise to Wake feature so much until I got my AirPods, since I can bring up the lock screen play/pause, forward, and rewind buttons so easily, and leave Siri out of it.
UPDATE: I forgot to mention, you can go into Settings > Bluetooth, hit the little i button next to your AirPods, and change the double-tap gesture to Play/Pause or Off. A second gesture would still be helpful. I'd love an experimental mode that apes the click patterns on the EarPods remote (single to play/pause, double to advance a track, triple to back up).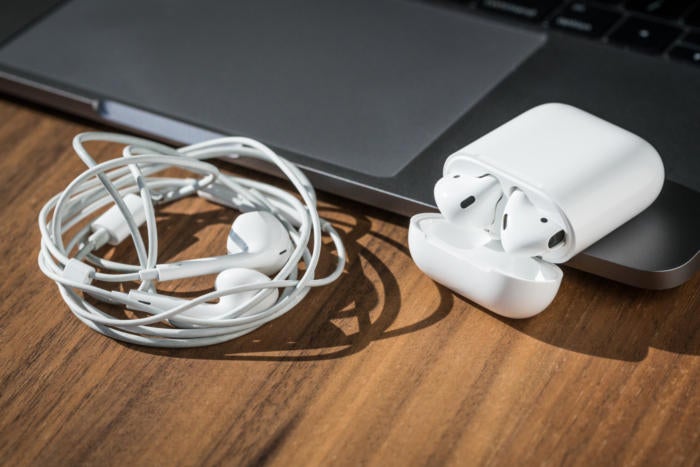 The EarPods are easier to control. But the AirPods never tangle, so...
The auto-pause feature does work well, and mostly seamlessly across apps. When you are listening to the AirPods, and you take one out of your ear, the sound pauses. When you put it back in your ear, it starts playing again. While the feature is mostly solid, it isn't a sure thing. A few times the music would start playing again after I'd stuck one AirPod in my jacket pocket while talking to a cashier. Other times, taking an AirPod out would pause a podcast in Pocket Casts, but putting it back in wouldn't start it playing again. Instead, I had to hit Play on the iPhone itself. If you do want to play music on only one AirPod for some reason, you can just press Play on the iPhone after taking one out.
Even with a little finicky behavior, I love this feature. I'm also testing a pair of Libratone wireless headphones right now, and they have a feature where you can mute the sound by cupping your hand over one ear. I'm glad companies are thinking about easy ways to silence the sound so you can say hi to neighbors or conduct a transaction politely. But pausing is better than muting, especially for podcast fans, so AirPods have the edge there.
Previous Page 1 2 3 4 5 Next Page