AMD shows how Zen—now renamed Ryzen—is its best chip family in a decade
Your move, Intel. Show us what else you've got with Kaby Lake.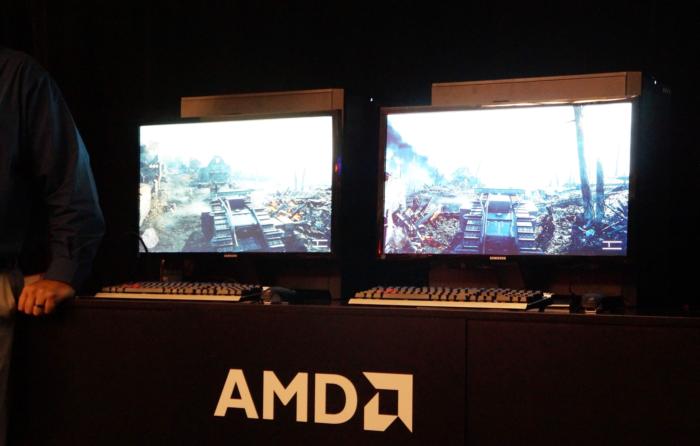 Brad Chacos
AMD's Ryzen went head-to-head with an Intel Core i7-6900K and came out unscathed.
We were allowed to try a head-to-head playthrough of the first chapter of Battlefield 1, comparing the two machines. The catch: There was no on-screen overlay with frame rates. Instead, we had to go on what AMD product manager Jim Prior told us: Both systems were running at between 100 and 130 frames per second, at 4K resolution under DirectX 11, using ultra settings. AMD turned off the overlay because DICE has been frequently patching the game, and the hard performance numbers could change between our hands-on and AMD's livestream of the Ryzen announcement, Prior said.
Our conclusion? There were no functional or visible differences between the Ryzen and Intel systems. Both felt and looked exactly the same, whether actually playing on the PCs or peering over the shoulder of another player to watch the action side-by-side. In premium gaming, Ryzen hung like a boss. By contrast, AMD's current FX-6xxx/8xxx chips are notably slower than comparable Intel budget parts in gaming, depending on the specifics.
Under the hood: How SenseMI changes the game
In a way, AMD's Ryzen opens up another vector of consideration when buying a chip: efficiency. Most PC enthusiasts consider price, core count, the speed of the chip, and the power each chip consumes before buying. Chip manufacturers, meanwhile, talk about the instructions per clock (IPC) as a way to measure effectiveness. Ryzen, though, proposes a new approach.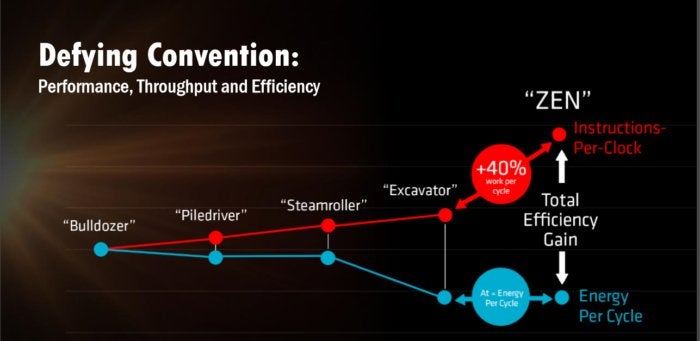 AMD's latest processor generations have increasingly emphasized efficiency, the company says.
According to Mark Papermaster, AMD's chief technology officer, AMD set out to ensure that Ryzen had what he called the best "intelligent performance," an adaptive technology that continually assesses the processor to deliver the best performance at a given power level. AMD calls this "SenseMI."
SenseMI consists of five different technologies: Pure Power, Precision Boost, Extended Frequency Range (XFR), Neural Net Prediction, and Smart Prefetch. The technologies all work together, using what AMD calls its Infinity Fabric—an on-chip network of connections—to constantly loop back and reassess how they're doing.
Pure Power and Precision Boost, for example, are like two sides of the same coin. Pure Power monitors the chip's temperature using hundreds of temperature sensors embedded in the chip and fabric, constantly seeking to bump down the power by milliwatts at a time while maintaining the same level of performance. On the other hand, Precision Boost is a fine-grained frequency control that can nudge performance up by 25MHz increments (versus 100MHz for Intel) to boost performance without consuming more power.
Previous Page 1 2 3 4 5 Next Page