AMD shows how Zen—now renamed Ryzen—is its best chip family in a decade
Your move, Intel. Show us what else you've got with Kaby Lake.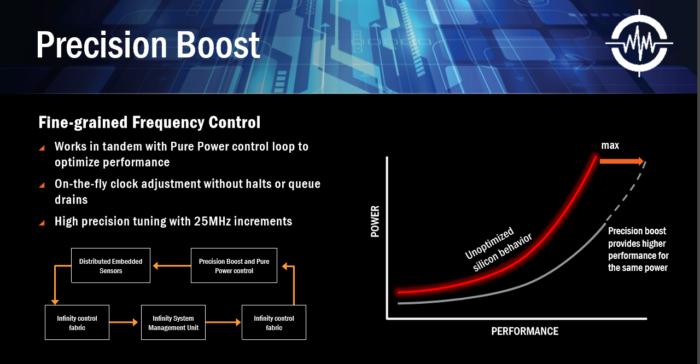 Here's one of the secrets to Ryzen's higher performance: fine-grained clock control.
And if a user has a cooler installed—using air, water, or liquid nitrogen—the chip can sense it, via Extended Frequency Range (XFR), a fancy name for auto detection that allows the Ryzen chip to run at a higher frequency than normally permitted.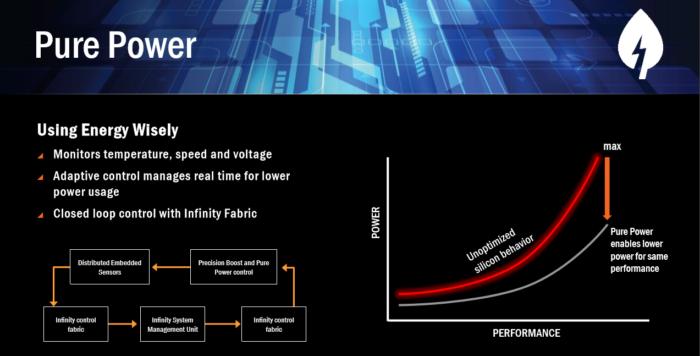 AMD
AMD's Ryzen dynamically examines its power usage and makes adjustments on the fly.
If designing a chip was like training a football player, than the first three SenseMI technologies would be like hitting the gym: improving speed, power, and endurance. Think of the latter two, Neural Net Prediction and Smart Prefetch, as the mental aspects of the game: anticipation and awareness.
Papermaster described AMD's Neural Net Prediction capabilities as "scary smart" branch prediction, intended to remove pipeline stalls. A microprocessor's instructions typically work on conditions: if this, then that. But executing those instructions, then waiting for the next one, can take several clock cycles where the chip is essentially doing nothing. To compensate, modern processors "cheat" by trying to guess the way the conditional jump will go. If it's right, then the processor can save time and improve the overall performance. If it's wrong, then everything stalls while a new instruction is fetched. AMD's technology uses a "massive amount of data" to retrain AMD's branch predictor on the fly, minimizing those pipeline stalls, Papermaster said.
Likewise, Smart Prefetch makes that same bet, but in a different manner—it tries to guess what data Ryzen will need next, then grab it before the chip can act upon it. "That's what we live for," Papermaster said. "This inspires every designer."
What's next? A glorious battle for your wallet
After years of scratching and clawing to stay afloat—restructuring debt; leasing and then moving its headquarters from Sunnyvale, CA, to Santa Clara; layoffs—AMD is smartly doubling down on what it sees as a winning hand. Naples is just the first step toward a push back into the enterprise market, where higher margins can help fund future growth.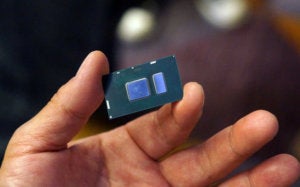 Gordon Mah Ung
Intel is waiting in the wings with Kaby Lake.
What isn't clear, though, is how AMD will price its first Ryzen chip, Summit Ridge. Typically, Intel has applied the screws, forcing AMD to lower prices to gain market share. In August, Intel executives predicted that more than 350 new PC designs would be predicated on the various versions of Kaby Lake, beginning in January. For AMD's part, Chief Executive Lisa Su predicted a "very, very strong lineup" of motherboards, hardware partners, and system builders, but didn't disclose any numbers. (Want to learn more? AMD's special Ryzen livestream on December 13 is just for enthusiasts.)
Previous Page 1 2 3 4 5 Next Page