AMD's new Bristol Ridge processor is faster and more power efficient
Company says desktops based on its faster Bristol Ridge APU and AM4 socket to soon ship
The B350 chipset adds additional USB ports including USB 3.1 10Gbps, a few more PCIe lanes, and more SATA ports that support various RAID configurations.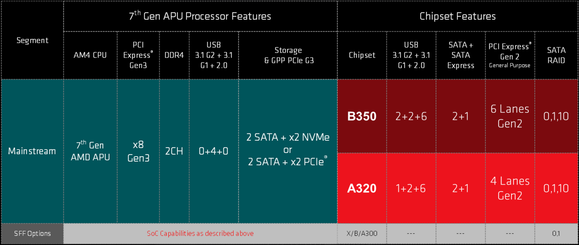 AMD details its consumer and mainstream AM4 chipsets but its enthusiast chipset is still shrouded in mystery.
What's an SoC?
The layout of Bristol Ridge with its AM4 chipsets gives us a possible glimpse of why AMD considers the new chips, including the Zen-based Summit Ridge "SoCs." Although there is no hard line on what defines an SoC, they typically contain enough functionality that they can mostly operate independently beyond adding RAM or storage. If the Zen-based Summit Ridge follows the same path as Bristol Ridge, it looks like AMD may integrate memory controller, PCIe, USB, and SATA into it.
But as it has done with Bristol Ridge, Summit Ridge probably will get far beefier SATA, PCIe support from the chipset to address enthusiast's needs.
Why this matters: In the larger scheme of things, Bristol Ridge is another evolutionary step forward for AMD that likely isn't going to be a game changer. Far more significant is the introduction of the AM4 socket and chipsets which will eventually run the highly anticipated Zen-based replacement for Bristol Ridge.