D-Link DCS-2630L Full HD Ultra-Wide View Wi-Fi Camera review: This solid product needs a full-featured app
This camera boasts highly customizable security features, but you'll need your computer to access them.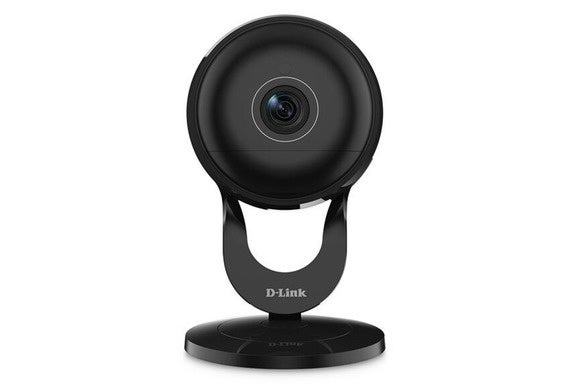 The Dropcam—now Nest Cam—seems to spawn a new competitor every week. D-Link—no stranger to the home security camera market—is the latest, introducing its Full HD Ultra-Wide View WiFi Camera (D-Link model DCS-2630L). The $200 DCS-2630L stands out with its wider-than-average viewing angle, advanced security settings, and lack of cloud-storage subscription fees. However, it's hampered a bit by an anemic app that takes some of the facility out of mobile home monitoring.
What you get
Even the smallest security cameras are difficult to hide in plain sight, but it's nearly impossible to conceal the DCS-2630L. This is a big camera. It's about the diameter of a drink coaster, and without its mount the camera weighs in at three-quarters of a pound. By comparison, the Nest Cam is less than half a pound. The D-link camera's sturdiness is complemented by a nicely weighted stand that keeps it balanced even when you give the power cable a good tug, so you don't have to worry about it toppling from whatever surface you place it on. The camera can also be mounted to a wall and it comes with a pair of screws.
As D-link touts in the name, the camera has a generous 180-degree viewing angle—most cameras fall in the 130-degree range—and uses de-warping technology to reduce the image distortion that's typical of such wide-angle lenses. It streams in 1080p and has six infrared LEDs to provide up to 16 feet of night vision. It also features a built-in microphone to pick up loud noises and to provide two-way audio communication. The latter is useful when you want to remotely talk to your kids or pets at home or even startle a burglar in the act.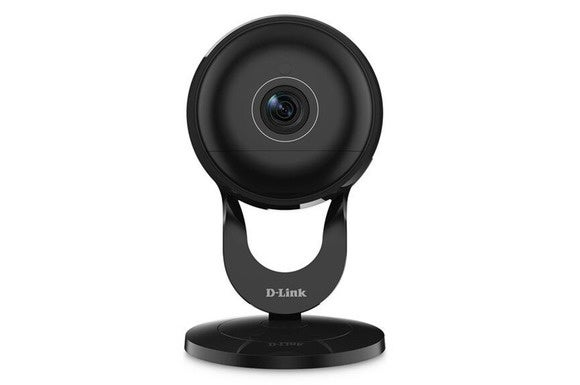 The DCS-2630L features a 180-degree viewing angle and can store up to 128GB of video on a microSD card. Credit: D-Link
The camera can detect sound and motion, either of which will push an alert to your mobile device and trigger the camera to begin recording to an onboard microSD card (up to 128GB). There are pros and cons to this type of local storage: It saves you costly cloud storage fees and allows the camera to keep recording even if your Internet connection is interrupted. But if an intruder makes of with your camera as well as your valuables, you lose all video evidence of the crime.
Setup and usage
Setting up the DCS-2630L isn't as turnkey as D-Link's included "quick install" card would have you believe. Ostensibly, you just download the app, create an account, add the camera, and connect it to your Wi-Fi network. I've found setting up a Wi-Fi camera rarely goes that smoothly.