D-Link DCS-2630L Full HD Ultra-Wide View Wi-Fi Camera review: This solid product needs a full-featured app
This camera boasts highly customizable security features, but you'll need your computer to access them.
In this case, the QR code wouldn't scan, so I had to manually select the camera from an in-app product list. Connecting the camera to my network via its WPS button also failed. Instead I had to temporarily connect my phone to the network hosted by the camera, then reconnect to my home network. Once I got the camera connected, it required a firmware upgrade. Altogether, setup took about 45 minutes.
Once up and running, the camera was streaming a live feed to my phone. The ultra-wide viewing angle took in my whole living room, and the image was clear in both regular and low-light modes. Despite the de-warping tech, there was still a bit of fish-eye distortion but it was restricted to the corners where it wouldn't likely obscure faces or anything else in the main field of view.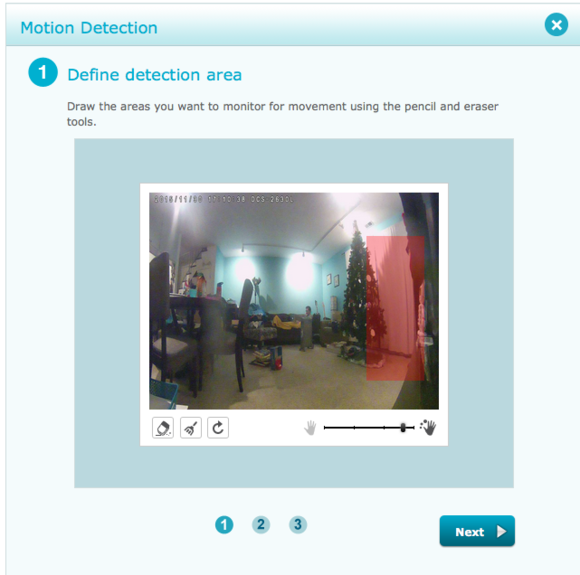 Motion detection settings include the ability to define detection areas and adjust sensor sensitivity.
Though you can view the live feed and recorded videos in the MyDlink Lite mobile app, it gives you only limited camera controls. Beneath the feed window is a row of buttons for triggering the microphone, turning audio on and off, taking a screenshot of the feed, toggling the camera's resolution between 720p and 1080p, and setting infrared activation to auto or manual. For virtually all the DCS-2630L's advanced features, you must login into the MyDlink web portal.
The browser-based control panel is divided into three tabs: Live View, which mirrors the main page of the mobile app and provides the feed; SD Card, where you can play back your recorded videos; and Settings.
I discovered this last tab should actually have been my first stop, as this is where you enable and fine-tune detection settings. You can also define motion detection areas by drawing squares over a screenshot of the camera's field of view. A slider beneath the image lets you adjust the senor's sensitivity. For sound detection, you're shown a graph with the current volume level in decibels; you move a level bar up or down to set the detection level you want.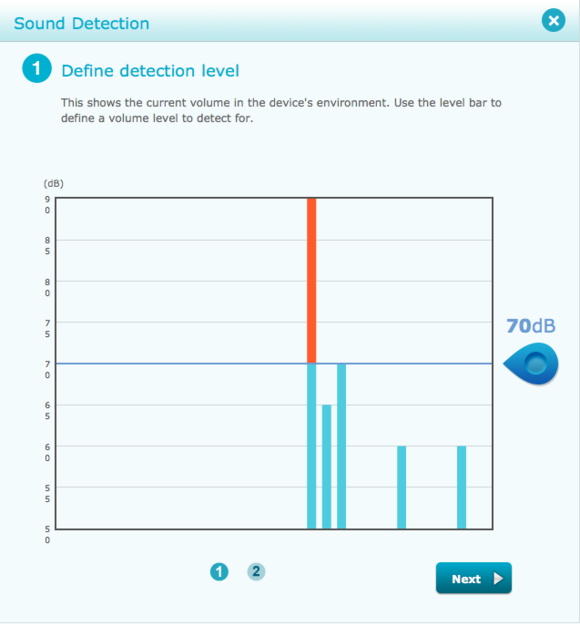 The DCS-2630L's sound-detection settings show you the current ambient noise level and let you adjust detection levels accordingly.
As I have pets that are in the house even when the family isn't, I limited the motion detection area to the door that leads from my living room to the backyard, and I set the sound detection several decibels above the baseline noise level. This significantly cut down on the number of false security alerts I received when I was away.