EVGA GTX 1060 3GB review: A compelling $200 graphics card with a questionable future
Nvidia's new 3GB version of the GeForce GTX 1060 goes toe-to-toe with the $200 Radeon RX 480—in theory.
To test the new configuration's capabilities, EVGA sent us an EVGA GTX 1060 3GB Gaming ($200 on Amazon) for review. You couldn't ask for a more ideal paragon: The card sticks to the GTX 1060 3GB's reference speeds, feeds, and pricing. Ports-wise, the EVGA GTX 1060 3GB Gaming packs the stock DVI-D, HDMI 2.0b, and trio of DisplayPort 1.4 connections. It doesn't include an SLI connector, as Nvidia decided not to bake multi-card setup support into the GTX 1060, presumably because a pair of GTX 1060s in SLI would likely outperform the $600-plus GTX 1080, but for just $500, and Nvidia doesn't want that happening.
Nvidia didn't create a Founders Edition "reference" version of the GTX 1060 3GB, and EVGA equipped this diminutive 6.8-inch-long graphics card with a single-fan version of the company's ACX 2.0 custom cooler. Pricier options upgrade to a more efficient ACX 3.0 model, but hey—ACX 2.0 excelled on EVGA's GTX 970 and GTX 980, albeit in dual-fan setups. This cooling solution is nothing to sneeze at. The card pulls its 120=watt TDP through a single 6-pin power connector.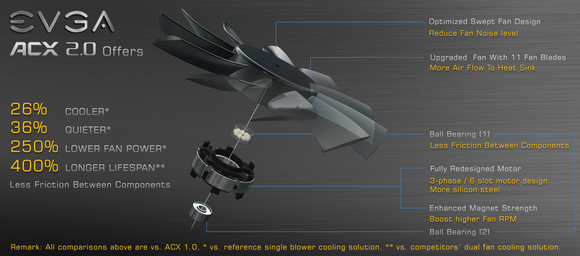 An overview of EVGA's ACX 2.0 cooling system.
Of course, the Pascal architecture-based GPU in the heart of the EVGA GTX 1060 3GB Gaming enables all sorts of fancy features found throughout the GTX 10-series lineup. That includes key additions like simultaneous multi-projection and async compute improvements, as well as handy extras like Ansel screenshots, Fast Sync, GPU Boost 3.0, and more. Importantly for this particular model, Pascal-based video cards also pack Nvidia's superb fourth-generation delta color compression to ease memory demands. Hit those links for details on all the goodies, which we covered in-depth in our GTX 1080 review.
And now to answer the most important question about the GTX 1060 3GB: How does it stack up against AMD's RX 400-series cards?
Our test system
We tested the EVGA GTX 1060 3GB Gaming on PCWorld's dedicated graphics card benchmark system. Our testbed's loaded with high-end components to avoid bottlenecks in other parts of the system and show unfettered graphics performance. Key highlights:
Intel's Core i7-5960X ($1,016 on Amazon) with a Corsair Hydro Series H100i closed-loop water cooler ($97 on Amazon).
An Asus X99 Deluxe motherboard ($360 on Amazon).
Corsair's Vengeance LPX DDR4 memory ($65 on Newegg), Obsidian 750D full-tower case ($155 on Amazon), and 1,200-watt AX1200i power supply ($308 on Amazon).
A 480GB Intel 730 series SSD ($248 on Amazon).
Windows 10 Pro ($199 on Amazon).
Previous Page 1 2 3 4 5 6 Next Page