EVGA GTX 1060 3GB review: A compelling $200 graphics card with a questionable future
Nvidia's new 3GB version of the GeForce GTX 1060 goes toe-to-toe with the $200 Radeon RX 480—in theory.
We're comparing the $200 EVGA GTX 1060 3GB Gaming against its direct competitors: AMD's RX 480 and the XFX Radeon RX 470 RS Black Edition True OC ($210 on Amazon), as well as the original 6GB GTX 1060. (We're testing the $240 8GB version of AMD's RX 480 card, though the 4GB model offers virtually identical performance.) As the full-fat GTX 1060 offers performance that falls somewhere between the older GTX 980 and GTX 970, we've also tossed in results from EVGA GTX 970 FTW, a highly overclocked GTX 970 custom card. We're not including results from AMD and Nvidia's last-gen $200-ish graphics cards, as our original GTX 1060 review established that this new generation blows those older models away.
We benchmark every game using the default graphics settings unless otherwise noted, with all vendor-specific special features—such as Nvidia's GameWorks effects, AMD's TressFX, and FreeSync/G-Sync—disabled. Based on the GTX 1060 3GB's target performance we're looking at 1080p and 1440p results today.
Test 1: The Division
The Division, a third-person shooter/RPG that mixes elements of Destiny and Gears of War, kicks things off with Ubisoft's new Snowdrop engine.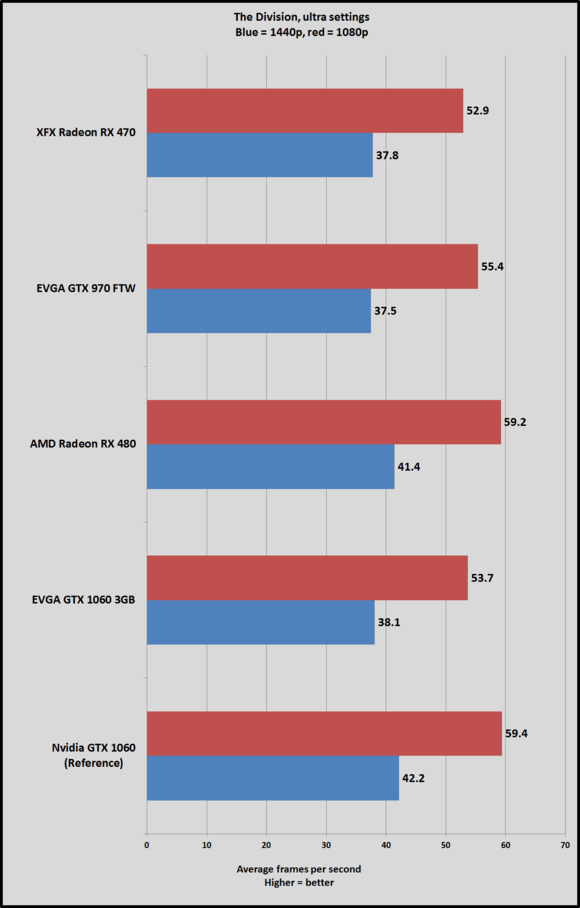 The effects of the cut-down GPU start to show themselves immediately, as the EVGA GTX 1060 3GB Gaming pumps out about nine percent fewer frames than its full-fledged cousin. That makes sense, considering one of the GP106 GPU's ten streaming multi-processors is disabled in this model. That pulls the 3GB GTX 1060 away from the 6GB model's no-compromises 1080p performance at 60fps. It's a smidge faster than AMD's Radeon RX 470, though.
Test 2: Hitman
Hitman's Glacier engine heavily favors AMD hardware. It's no surprise; Hitman's a flagship AMD Gaming Evolved title, complete with a DirectX 12 mode that was patched in after the game's launch.
Important note: Hitman automatically caps the game's Texture Quality, Shadow Maps, and Shadow Resolution at Medium on cards with less than 4GB of onboard memory, meaning the EVGA GTX 1060 3GB is limited to those settings out-of-the-box. We overrode the memory safeguard to run the benchmark with those features set to the highest possible setting, to match the legion of 4GB graphics cards we're comparing against this new GeForce variant. That said, the benchmark didn't exhibit excessive stuttering or any other frame rate concerns.
As expected given the game's hearty Radeon tendencies, both of the GTX 1060s are outpunched by the RX 480 and even the RX 470. The GTX 1060 3GB also loses a few scant frames in DX12 mode. That's likely due to the limited memory, especially since the GTX 970 and its 4GB of RAM fails to see a similar dip moving from DX11 to DX12. DirectX 12 loves RAM.
Previous Page 1 2 3 4 5 6 Next Page