EVGA GTX 1060 3GB review: A compelling $200 graphics card with a questionable future
Nvidia's new 3GB version of the GeForce GTX 1060 goes toe-to-toe with the $200 Radeon RX 480—in theory.
The EVGA GTX 1060 3GB Gaming's average frame rate drops when you activate DirectX 12, especially at the high-end Crazy graphics preset (and likely because of its limited memory). Conversely, the average frame rate for Radeon cards skyrockets—though its DX11 results are downright poor at best.
That said, when you look solely at the peak performance for comparable cards—DX11 for the GTX 1060 3GB, and DX12 for the Radeon RX 470—then the GeForce offerings actually come out very slightly ahead, in a way you'd never be able to actually see on-screen.
Test 6: Synthetic benchmarks
We also tested the RX 470 and its rivals using 3DMark's highly respected DX11 Fire Strike synthetic benchmark, which runs at 1080p, as well as its brand-new Time Spy benchmark, which tests DirectX 12 performance at 2560x1440 resolution.
Everything falls about where you'd expect. The Radeon cards perform better in Time Spy's DX12 test due to their dedicated asynchronous shader hardware.
Test 7: Power
We test power under load by plugging the entire system into a Watts Up meter, running the intensive Division benchmark at 4K resolution, and noting the peak power draw. Idle power is measured after sitting on the Windows desktop for three minutes with no extra programs or processes running.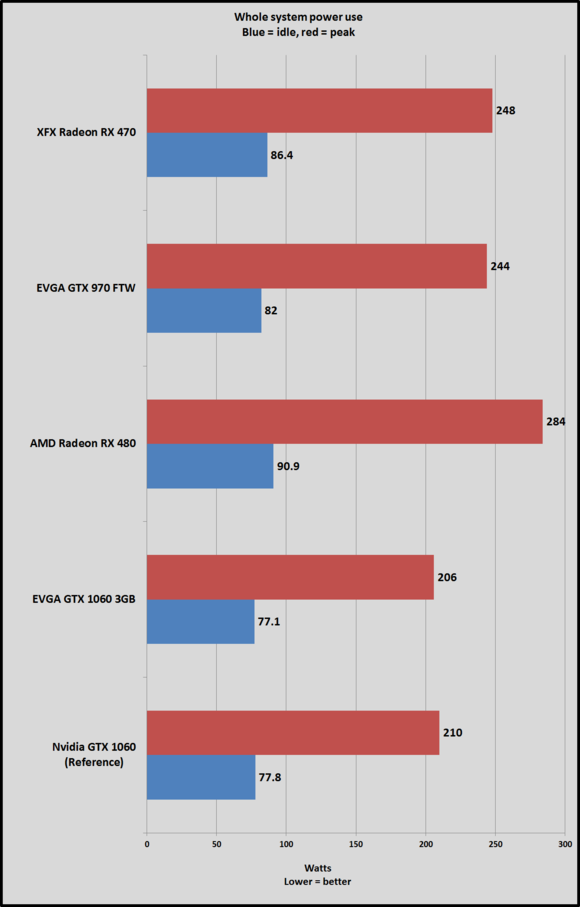 The 6GB GeForce GTX 1060 was already a model of power efficiency. This version, with a cut-down GPU and 3GB less RAM, is just as much of a marvel. AMD's Polaris architecture made great strides forward in power efficiency, but Nvidia's Pascal design is still head-and-shoulders better in that regard.
Test 8: Heat
We test heat during the same intensive Division benchmark, by running SpeedFan in the background and noting the maximum GPU temperature once the run is over.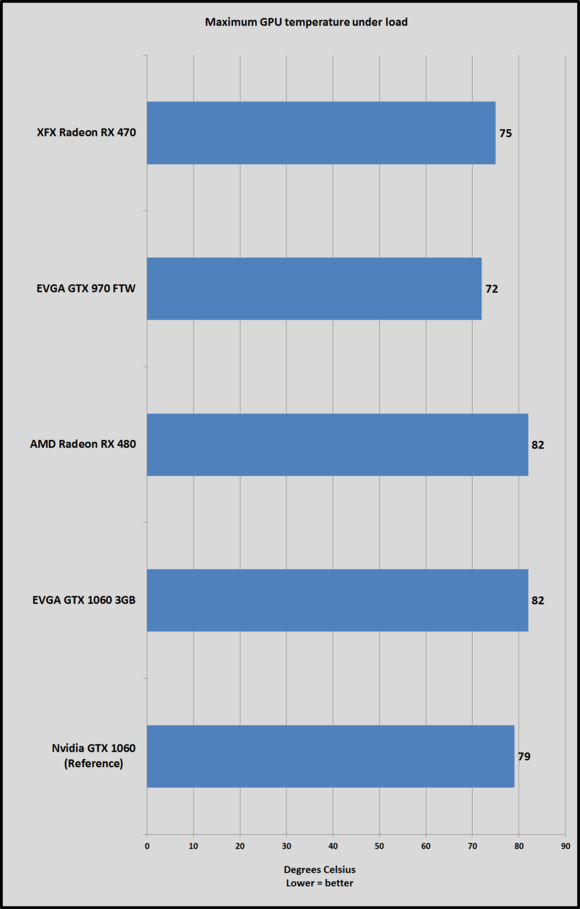 The EVGA GTX 1060 3GB Gaming runs hotter than the 6GB GTX 1060 Founders Edition, but that's no surprise. This particular design opted for a shorter length, so it only has a single fan compared to the usual pair on full-length cards. That's neither good nor bad; it's just different. On the plus side, the card runs quiet enough while you're gaming—that single fan isn't blaring to compensate for its lack of a buddy.
Bottom line
The $200 EVGA GTX 1060 3GB Gaming is an interesting graphics card being released into an interesting market.
In theory, there's no reason to buy one over a $200 4GB Radeon RX 480, period. But in reality, $200 reference versions of the RX 480 have been nonexistent since the card's initial launch in June. Heck, any 4GB RX 480s are borderline mythical. The MSI Radeon RX 480 Gaming X is the only 4GB model available on Newegg right now, and it costs $250. AMD's partners have focused almost exclusively on pricier 8GB versions.
Previous Page 1 2 3 4 5 6 Next Page