Ezviz Mini review: The only thing smaller than this security camera is its price tag
This tiny Wi-Fi camera is big on value, offering most of the features of its bigger competitors at a fraction of the price.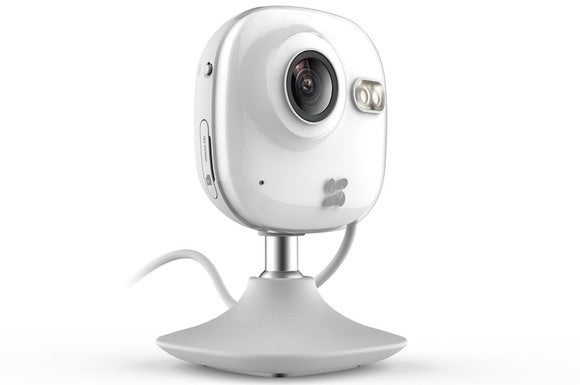 The boom in Dropcam-inspired Wi-Fi security cameras has fostered a lot of diversity in design and features. But one thing hasn't varied much in this swelling category: Prices, which hover between $150 and $200 for most models. Now Ezviz, manufacturer of sophisticated multiple-camera security systems, has stepped into this arena with a more affordable option, the $70 Ezviz Mini.
Though it's marketed more as a tool to monitor children, pets, and the daily goings-on at home, it is no mere Dropcam lite. This diminutive Wi-Fi camera offers many of the same security features of its bigger competitors—including motion detection, night vision, and HD video—at less than half the price.
What you get
The Ezviz Mini is 3.5 inches tall and weighs in at slightly less than four ounces. But don't let the small size fool you; the camera's metal housing and stand feel sturdier than many of its full-sized competitors. The camera's base is magnetic and it also comes with a mounting bracket, giving you a variety of placement options.
The Ezviz Mini has a 115-degree viewing angle and streams live video in up to 720p HD. Its night-vision feature—actually, an infrared LED—activates in low-light environments and can illuminate up to 30 feet in total darkness.

The EZVIZ Mini has a magnetic base and can also be mounted to wall.
While the camera gives you a continuous live feed, it will start recording when it detects motion within its field of view and then push an alert to your smartphone via the free Ezviz app for Android or iOS devices. Though the Mini has a built-in microphone and records sound, the Mini does not support two-way audio or sound detection (unlike many other cameras in this class, if not this price range). The last feature can be an important security feature for times when activity may be happening off-camera.
The Ezviz Mini records simultaneously to its 16GB microSD card and to the cloud (the latter requires a subscription), and that's good news if you're using it for security purposes. Most Wi-Fi security cameras provide one option or the other, but the Mini's dual recording method means you have a backup copy of any surveillance footage in the event of an Internet outage or if a burglar steals the camera. Video is encrypted directly on the camera, while streaming is secured by SSL.

Up to a 64GB microSD card can be used for onboard video storage.
Normally, the Ezviz Mini comes with a 7-day trial cloud storage subscription, but for a limited time Ezviz is extending that to a full year. The trial starts when you activate cloud storage on your app, and you can view the last week's worth of video. At the end of the trial period, you'll be given the option to subscribe. Plans range from $5 per month/$50 per year for 7 days of storage to $10 per month/$100 per year for 30 days.