Flir FX review: This security camera needs work to compete in a crowded category
Flir's first home security camera boasts an impressive array of features, but bugs hold it back from greatness.
Positioned atop the entertainment center in my living room, the 160-degree lens gave me a view of almost my townhome's entire downstairs with no image bending. Streaming video was periodically pixelated and choppy, usually when something or someone was moving quickly through the frame, but the recording of that event would be sharp and smooth. Night vision made the image grainier, though, with less tonal gradations, which made it tough to see details in the environment.
The Flir FX is accessed and controlled through its accompanying mobile app (Flir says a web portal is in he works). A thumbnail image of the room being monitored appears on the home screen. Tapping the the three-dot "more" menu on a bar above this image opens a drop-down menu with options to create RapidRecaps, view recordings, and turn notifications on and off.
The app is fairly intuitive. Tapping the thumbnail image takes you to camera's live feed. Two buttons appear beneath the feed window: Actions and Recording. Pressing the first opens a radial menu with options to (again) create RapidRecaps, use the mic, take a snapshot of the feed and save or share it, and access settings such as night vision and sound and motion sensitivity.
As you'd expect, the Recording button opens its own radial menu from which you can stop and start recording and activate/deactivate sound- and motion-triggered recording.
False alarms are inevitable with any security camera, but I was successful in reducing the Flir's by calibrating the camera's motion sensitivity. You adjust this using a slide control that ranges from low to high. I found the sweet spot to be right in the middle. I cut down alerts even further by creating a SmartZone that limited the motion-detection area to the front door. With the camera trained on on that space, I was only getting an alert once every hour or two with my family in the house, and that was only when they walked in front of the door on the way to the stairs.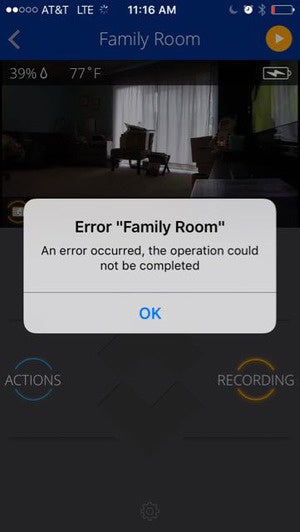 Attemptng to configure the camera's onboard mic too often returned this error message.
Sound sensitivity proved tougher to master. Even with it turned all the way down, I was getting "audio event" alerts every few minutes, even with just the pets in the house. I finally turned off sound-triggered recording to save storage space.
At one point, I decided to create a RapidRecap of some of the overnight footage I recorded. This entails swiping along a scrolling timeline to set the start and end times for the hours you want to capture. Creating the recap isn't quick; I selected a span of five hours and the recap took a full five minutes to produce.
Previous Page 1 2 3 4 Next Page