Hands-on: Microsoft's Surface Studio is a Windows PC for the Mac crowd
Its beautiful display and intriguing peripherals grab your attention, but this is more workstation than PC.
While the Studio doesn't include the modular functionality that was hinted at in a patent filing, it does include a 5MP front-facing camera and a dual-mic array. Orally triggering Windows 10's Cortana assistant ("Hey, Cortana!") worked surprisingly well in the crowded demo room. I didn't try the camera.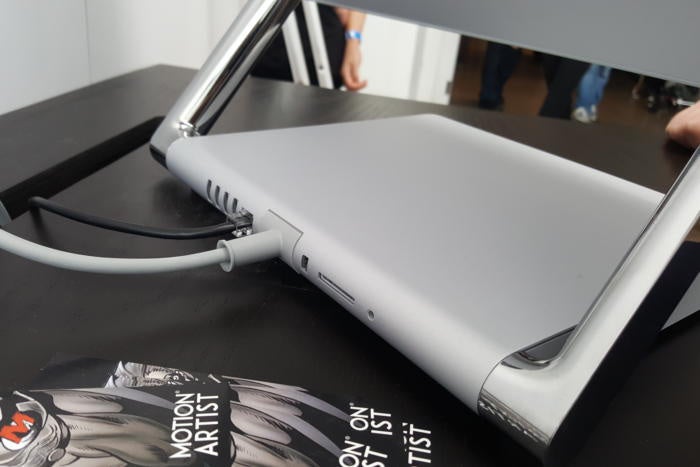 Microsoft says that front-facing ports would have interfered with the zero-gravity hinge. It's still obnoxious, though. Credit: Mark Hachman
I'm not sure I like Microsoft's decision to package its expansion ports inside the base. Microsoft essentially took its Surface Hub and tied it to a standard motherboard, encased it in plastic, and called it a day. The Studio puts four USB 3.0 ports inside the base, but points them toward the back, probably making it a pain to plug in anything. There's an SD card reader and a headphone jack—again, facing the rear. Unlike the Surface tablets, there's no USB port on the side of the monitor, which I rather miss. Bluetooth 4.0 and 802.11ac Wi-Fi complete the package.
The Studio is a lovely piece of hardware, and I can't wait to spend more time with it. But remember, it isn't necessarily for you or me. Microsoft is clearly aiming this at the creative community who normally would buy a Macintosh. I'll be interested to see how many actually make the jump.