Huawei MateBook review: Hip, hip Huawei is just a little too stylish for its own good
The MateBook is a fine tablet in many ways, but its design involves some sacrifices.
When you're done charging the pen half, you remove the charging cable and reattach the laser-pointer half. At that point, the pen's main battery, which you just charged, generously gives some of its juice to the laser pointer's own little battery. Huawei also hasn't said whether the laser pointer may be charged independently.
The MatePen's rechargeable USB laser pointer is a nice idea, even if the construction is a bit Rube-Goldbergian.
Otherwise, the pen is round, tends to roll away, and can be stored in the MateDock's pen loop or your own pocket.
Performance leans toward productivity, not games
We compared the MateBook against a number of other convertible tablets in its class, as well as a couple of ultrabooks. Performance tends to break down across product categories: Atom at the bottom, than the Core m chips, and on up to the Core i-series components.
The relatively speedy 1.52GHz Core m5 within the MateBook means that you won't be hurting for raw speed, though you really shouldn't think of the MateBook as a machine for too much more than productivity applications. Although the MateBook does offer enough horsepower for light gaming, anything that leans toward video or computationally intensive applications (like gaming) really demands a Core i-series chip. In standard office benchmarks, though, you'll sometimes see tablets with the more vanilla Core m chips outperform tablets with the more expensive Core i-series chips.
Here, we compared the MateBook and some of its competition using the PCMark series of benchmarks. As the charts show, a Core m tablet is an excellent choice for a general productivity machine.
As you move into the "Home" and "Creative" tests, where video and gaming become more of an emphasis, the Core chips begin moving up the performance ladder. Note that there really isn't too much difference, in these benchmarks, between the MateBook and the well-designed HP Elite x2.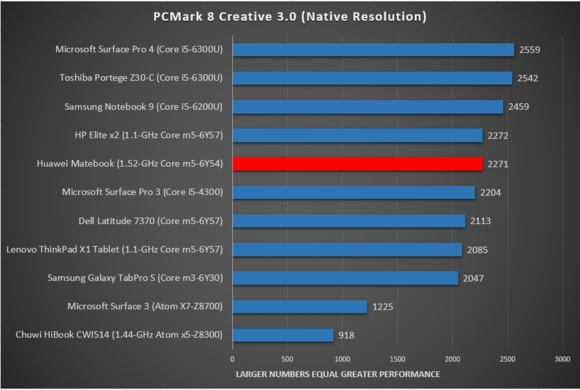 This becomes especially true when we transition into our image processing and transcoding tests. CineBench asks every available microprocessor core and thread to render a photorealistic scene, attempting to stress each of the tablet's CPU cores to the maximum.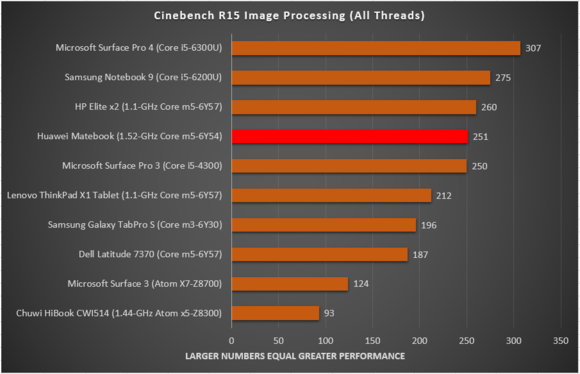 Note that we did see some evidence of thermal throttling within the MateBook, which will limit performance under prolonged load. I never experienced any unexpected BSODs (Blue Screens of Death) as a result of overheating, but the throttling—compared to tablets like the HP Elite x2, whose aluminum chassis appeared to dissipate heat quite well—would be a possible explanation for why the MateBook underperformed the Elite x2 on our HandBrake movie transcoding test, for example.
Previous Page 1 2 3 4 5 6 Next Page