MacBook Pro Thunderbolt 3 adapter guide: How to connect an iPhone, display, hard drive, and more
Make room in your laptop bag.
How to connect micro USB devices
Devices like iPhone battery cases and some external hard drives use micro USB ports. To connect to the MacBook Pro, you can use an adapter like the Aukey USB C to Micro USB Adapter, which is available as a two-pack for $8 on Amazon.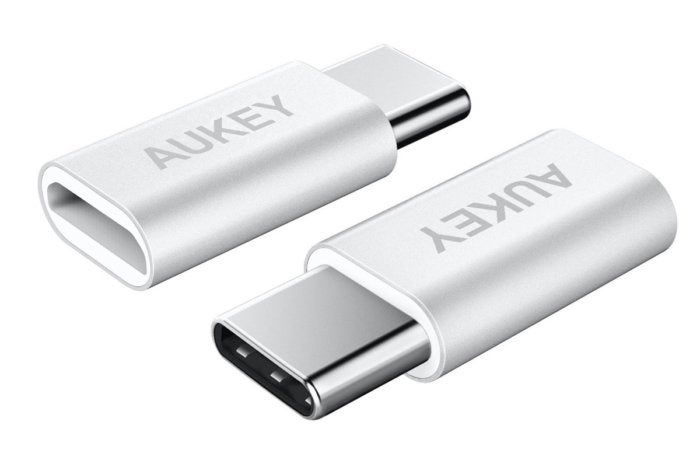 Aukey USB C to Micro USB Adapter
How to connect micro B SuperSpeed USB devices
This connector is often used with external storage devices. You'll need a new cable, like the Belkin USB-C to Micro-B Cable (USB 3.1), which is US$30 in the Apple Store.
The name of the Belkin cable is confusing, because it could be mistaken for micro USB (see section just above). But if you check the product page on Belkin's website, you can see a clear shot of the micro B SuperSpeed connector on the cable, which is quite different from micro USB. Also, Belkin sells the cable in black, while the Apple Store version is white.
How to connect an iPhone or iPad
If you are still using the USB-A to Lightning (or 30-pin, if you're using an older iOS device) cable that came with your device, you can get the USB-C to USB Adapter mentioned above in the USB-A section.
Don't want an adapter? Buy a US$25 (1 meter) USB-C to Lightning Cable. A 2-meter version of the cable is available for $35.
How to connect the Lightning EarPods
As of this writing, it can't be done. Apple has a Lightning to 3.5 mm Headphone Jack Adapter for connecting headphones with a 3.5mm audio plug to the iPhone 7. But what's need here is a female Lightning to 3.5mm audio plug or USB-C adapter. Right now, it doesn't exist. (Which brings up the whole issue of connectivity compatibility in Apple's ecosystem.) While you wait for someone to make one, you'll have to use another pair of headphones.
How to connect headphones with a 3.5mm headphone plug
You're in luck. The MacBook Pro comes with a 3.5mm headphone jack. Just plug it in and you're good to go. That was easy.


The MacBook Pro actually has a headphone jack. Really, it does.
How to connect Thunderbolt 1 and Thunderbolt 2 devices
Older versions of Thunderbolt have a different connector than Thunderbolt 3. There aren't any docks that have an old Thunderbolt to Thunderbolt 3 connection, so you need to buy a separate adapter.
Previous Page 1 2 3 4 Next Page